Student section limited due to COVID-19
Due to COVID-19, student athletes and coaches are only allowed a certain number of vouchers a game allowing whomever they want to attend to watch in person. The school has offered a way to watch from home; however, the experience is not the same. The enthusiasm of the student section amps the adrenaline of the athletes playing. Not being able to watch fellow student athletes might not be a big deal to some, but it takes a toll on seniors. This year is their last chance to be under the Friday night lights. 
"Most students who aren't involved in a sport or a club only got involved at school when they went to the student section. I believe the student section is a fun and memorable environment for all students," senior Jadyn Jackson said. 
Having a student section at games not only helps students get involved, but helps create a loud, energetic atmosphere for the athletes playing. 
"There definitely isn't as much energy in the stadium without a student section; it provides energy, and it's fun to play in front of your classmates," senior Ely Wilcox said. 
Volleyball, boys soccer, and football, which includes the dance team and cheerleaders require vouchers for fans to watch in person. Cross country, girls tennis, and girls golf do not have any limits to who watches because their meets are so spread out. However, these sports do not have organized student sections, so they do not provide the same type of atmosphere as a football game does.
"If we don't get to have a student section by the end of the year many seniors will be disappointed and feel cheated out; this is our year to lead the student section," senior Morgan Pennycuff said. 
Although not having a student section is upsetting to some, most athletes are glad to be able to compete with the pandemic going on. 
"I'm just happy to be able to play football, so not having a student section is not that big of a deal to me; I can find my own energy in football. I'm playing for more than the student section," Wilcox said. 
About the Contributor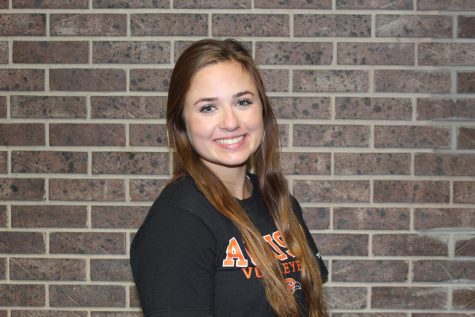 Ivory Rightnar, Reporter
Senior Ivory Rightnar is a reporter on The Oriole staff. She enjoys playing multiple sports (volleyball and softball) and cheering on her school's activities....