Orioles express feelings on life going back to normal
For the past year, COVID-19 has been an ongoing issue the world has had to grapple. Masks, hand sanitizer and cleaning supplies are everyday items students and staff have used in classrooms and around the school. In central Kansas, the number of positive cases and deaths from COVID-19 are decreasing, normal life is slowly coming back, and freshman Cooper Jay is happy that life will be the same again. 
"I have been waiting so long for there to be a time where masks aren't required," Jay said. "I want to be able to have a normal, high school experience. It's been a weird year to get used to." 
At the beginning of the school year, keeping masks above noses, maintaining distance between students and cleaning desks five to 10 minutes prior to the end of class was strictly required in each of Jay's classes. Recently, Jay has felt the school has slacked off with these rules and believes there is no point in wearing face coverings if COVID-19 issues are declining. 
"I have seen multiple people without their masks in the hallways and classrooms, and no one was called out for it," Jay said. "Only a few teachers still clean desks and almost every kid I see has their masks under their noses. If everything is starting to become normal, we should be able to do the normal everyday things already without having to fake wearing a mask."
Although his freshman year was more unusual than previous years, Jay is looking forward to the hope of having a normal last few years of high school. 
Similar to Jay's point of view, junior Courtney Green is looking forward to the possibility of no masks next year, but still has a few concerns.
"Although I would be so relieved to not have to wear a mask anymore, it's going to be weird to see everyone's faces again," Green said. "Also with the whole mask thing, I want everyone to remain safe. If we don't have a sort of protection, the rates of next year could go up if it's as bad as it has been in the past."
Green believes although masks do not protect a person completely, it is more of a protection than not wearing anything. Green feels having the masks and hand sanitizer at school is a good thing to have during a pandemic, but she misses the normal, daily activities she was able to participate in before the virus took over the world. 
"There was so much more to do before the outbreak," Green said. "There used to never be an issue to go out whenever you wanted or anything, but that majorly changed. I can't wait to not have to worry about a mask or getting quarantined anymore."
With thoughts of going back to a normal life again, Green is concerned about not having an extra security blanket over the student body and believes some of the new requirements in school should stay the same.
"I think it's very important to keep the sanitizing stations everywhere, only having water bottle stations and having the school lunches packed individually for next year, it maintains safety precautions and keeps everyone safe and healthy," Green said. 
Unlike Green, senior Hallie Johnson will not be able to enjoy the rest of her high school life normally. Johnson feels as though her high school experience was taken from her and her graduation class.
"Unfortunately for my graduation class, we had our second half of junior year taken from us and are having a weird senior year as it wraps up," Johnson said. "Although we've had a full senior year, we have the masks and strict rules because of COVID. It made this year boring, and I feel that the school year was overrated."
While the school year is coming to an end, Johnson has been making the most out of it as she can.
"I have been focusing not only on my schoolwork but really creating a bond with my classmates this year more than ever," Johnson said. "The closer the end of my high school career comes, the more I am realizing just how much reality is about to hit. Prom is going to be a fun time for us and hopefully, we don't have to wear our masks the entire night so we can have just one regular night for our senior year."
Even with the chance of the mask mandate being lifted for next year, it is not certain. 
"I have a strong feeling that the masks will be around for quite some time although I am not a huge fan of them," Johnson said. "I still really wish we didn't have to deal with all of this chaos, but everything happens for a reason. At the end of the day, I just hope that the students in the grades below me will see a normal senior year and get to live their time in high school to the fullest because it goes by fast."
About the Contributor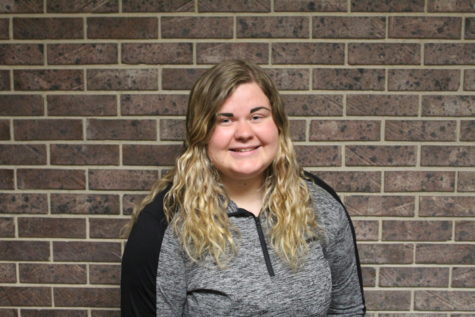 Savannah McMichael, Co-Editor
Senior Savannah McMichael is a third year reporter and first year Co-Editor on The Oriole staff. McMichael is a very enthusiastic person who tries to...