Six wrestlers place at state tournament
Wrestlers anxiously stand side-by-side, sizing up their competition as the Wrestler's Creed is read aloud for the whole gym to hear. They bounce from foot to foot, mentally preparing themselves for the challenges to come that day. This is the state tournament.
Six wrestlers ranging from freshman to senior competed in the state tournament Feb. 27-28 in Salina; all six placed in their weight classes. 
"We practice every day, and running in the morning got me into shape," sophomore Cannon Carey (4th place 113 lbs) said. "I tried to push myself and practice and I really pushed myself beyond my limit, which made it to where I was in better shape than everyone I wrestled this year."
The wrestling team prepared for the season, specifically for state, the same way as an ordinary meet. 
"We just happened to have a great group of kids that bought in, worked hard and are just good kids," wrestling coach Brandon Terry said. "We did some of just precaution after precaution trying to avoid being quarantined. That's out of our hands, and kids got quarantined throughout the year. Those kids did a pretty good job of working out from home."
One of the main forms of practicing was drilling, where wrestlers went through different moves with a partner.
"Basically, we drill, like it or not," Brandon said. "We've got a sign in our room that says, 'You can drill and waste your time, or you can drill and get better. Either way, we're going to drill.'"
For some wrestlers, this was their first year participating in the tournament.
"This was my first year qualifying, first year placing," senior Jacob Money (6th place for 195 lbs) said. "It was all four years of waking up early, running in the mornings and at the same time, trying to keep your body where you can perform at your peak. There's a lot of work that goes into it. The hardest part specifically was getting, mentally, where you needed to be."
Wrestlers have downtime in-between matches, and most have four in total.
"Being a heavy-weight, I have a lot of time before I wrestled," Money said. "It's a lot of time to look at the guy you're wrestling, maybe do some homework on him, seeing what he does. Coaches are like 'Hey, you've got to perform here, why would you let this guy stop you from doing what you've been working hard [for] since you were a freshman."
For other wrestlers, this was not their first time competing in Salina. 
"I was ready to place at state because I've qualified before," Grady Fox (6th place for 120 lbs) said. "You expect there to be a lot of pressure, but I didn't feel that much pressure. There were four matches that decided what place I got. I knew I had to win the first match to place at state, so I won that match."
Even though he placed, Fox wishes he would have had a different outcome.
"If I had wrestled better, I would have done better, but that's how wrestling is," Fox said. "Some days you wrestle well, some days you don't, and that's okay. I'd already wrestled the kid that day and I was disappointed with how I wrestled the match before, so I really just wanted to make sure my last match was my best match, and it was."
The goal of wrestlers, such as Carey, was to achieve the highest placement they could. 
"For some reason in my mind, my goal wasn't just to place at state," Carey said. "It was to get the highest place possible, so I wouldn't say I looked past my first match, but that wasn't my goal. So my first match that I wrestled, I went out there knowing I was going to win."
Carey suffered an injury in his third match, which caused him to forfeit his final match.
"I'm really happy with fourth place, but there's just this little thing inside me saying I should have won in the semifinals and been a finalist," Carey said. "I only lost by a point, and if I could have just racked more points up or took them down in the last 15 seconds, I could have been in the state finals my sophomore year, first time ever going to state. If I wasn't injured, I could have beat the kid, but I honestly can't complain about fourth place at state."
For the first year in Augusta wrestling, a female wrestler qualified and placed at state. Freshman Jill High (5th place for 132 lbs) High had specific ways she coped with the stress of the day.
"I became friends with the managers of our team, and they helped to calm my nerves," freshman Jill High (5th place for 132 lbs) said. "The girl I was against I had wrestled before and I knew what to expect, however she was very aggressive."
The wrestling season began in November, and members practiced for three months.
"There was a lot of work, about two and a half hours a day of practice, sweating, losing about seven pounds," junior Garrett Davis (4th place for 175 lbs) said. "It wasn't as good as last year, but I was pretty happy. I still qualified for the state tournament, and it's a big accomplishment. Not everybody gets to do it."
Walking into state, Davis had not lost a match throughout the season. 
"I was very nervous and didn't want to lose already," Davis said. "If I was more prepared for it [by] mentally knowing I was undefeated, I would have gotten better placing, but fourth at state is pretty good. Even a two-time placer is pretty good."
One wrestler did place first in his weight class. 
"My conditioning and everything I've done has prepared myself for that match," sophomore Marcus Terry (1st place for 106 lbs) said. "I was confident the whole match, I just had to keep doing what I was doing."
The biggest challenge Marcus had throughout the season was cutting weight to meet the requirements of his weight class. 
"It's a big mental toll on yourself and on your body," Marcus said. "Cutting 10, 12, 14, 16 pounds sometimes in a week. It's a big mental factor."
Coaches experienced mixed feelings about the variety of placings from the weekend. 
"We brought home six medals, but you always feel a little bit torn up," Brandon said. "You're coaching kids that you feel like are your own, maybe not by blood, but we spend enough time and energy that when a kid has a rough go, it's tough on us too."
Students' families and friends showed up to support the team. 
"The environment was great," Brandon said. "We had all of our kids, their parents were around and grandparents. Mr. Rivera was there and Mr. Muhlig was there. A couple of the kids on the basketball team were there. A couple of their senior leaders were there supporting us."
Overall, Brandon is proud of what his team has accomplished.
"We had a successful year," Brandon said. "Last year, we took three and placed all three. This year, we brought six, and we placed all six. Since I've been coaching here, we haven't done that. Their state motto was never satisfied, and a couple of them weren't satisfied with a state medal, which is a good thing."
Placing at state meant a lot to each wrestler, sometimes bringing with it different emotions. 
"I just thought about all the times I didn't place at state as a little kid," Carey said. "I didn't make it to high school state last year, so making it this year and going to Salina and getting the jackers and getting my name everywhere, it almost brought me to tears after the match."
About the Contributor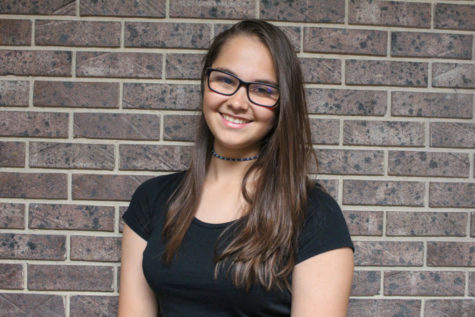 Savannah Athy-Sedbrook, Editor-in-Chief
Senior Savannah Athy-Sedbrook is a fourth-year reporter for The Oriole. She can often be found running around during ace to complete stories, as well as...