Production of 'M*A*S*H' changes due to COVID-19
Nervous reciting of lines, excited giggles, last minute adjustments of costumes before the lights dim and the curtains cue the start of the first scene. All these things would have been witnessed in the play "M*A*S*H" last March had it not been for unforeseen circumstances.
"We were two weeks from performance last year, and then the shut down came," director Tim Laner said. "Mr. McNutt and I had a meeting at the beginning of the school year, and we decided, since the play was so close, it would be easier to switch them and do the play in the fall and the musical in the spring."
For the first few weeks of school, it was undecided if a play would even be able to take place at all.
"We kept hearing that all performances were going to be canceled due to the virus," Laner said. "When I heard from the state they were going to allow band and all that, I was kind of excited because I know the students really wanted to perform this play and we were so close last year."
In March last year, students spent weeks preparing "M*A*S*H" (Mobile Army Surgical Hospital) for showtime before COVID-19 caused everything to shut down.
The play is based on the TV series, which aired in 1972-1983, featuring a team of doctors and support staff stationed in Uijeongbu, South Korea during the Korean War.
"The kids worked really hard on it," set director, Megan Springs said. "Both the cast and the set crew. Putting things together, practicing, learning their lines. We had some great seniors that unfortunately didn't get to participate because they did graduate."
While the production has been able to take place, new rules the CDC introduced have been put in place during rehearsals to keep students and staff safe.
"We're maintaining social distance, we're wearing our masks, we're washing hands and those kinds of things, but other than that we're still able to do a lot of the things that we did before," Springs said. 
Overall, the most challenging obstacle for the students has been wearing masks.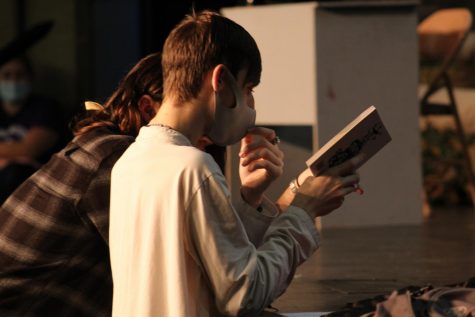 "Trying to rehearse with masks on has been difficult, and people that have been out sick on quarantine," Laner said. "We've never had a full cast since we started rehearsal. It has always been one or two gone, so that's been hard."
COVID provided difficulties the cast and crew have had to adapt to, some of which they have been able to use to their advantage.
"It's changed, but it hasn't," junior Gabe Wilson, (Captain John Black) said. "The masks still work because it's set in the hospital, so that doesn't change. It'll affect mics and all that. It's been hard understanding people out in the audience when the mask muffles them."
Before COVID, an exercise used by theater students to improve pronunciation was to hold a pencil in their mouth as they read lines, however, masks have created a new way to accomplish the same goal.
"The masks are kind of difficult, especially for the freshmen," sophomore Frankie Elliot (Major Margaret Hoolahan) said. "They have trouble projecting their voice. They just get kind of annoying, and it gets kind of hot on stage, especially with all the lights on."
The cast has been practicing since September to prepare for the production.
"This cast, they are hard workers," Wilson said. "We know when to joke and when to actually get stuff done. In business, they call it a hat, so they always know when to wear their hat on stage so they can get into character."
The set crew has also been hard at work preparing for the production.
"We have some people that are in the woodshop room, and they build the [set]," set crew member, senior Hila Daniel said. "Me and some other people paint it, and then we painted the background tarp from 'Gilligan's Island'. There's a lot of signs, so we had to paint a lot of signs."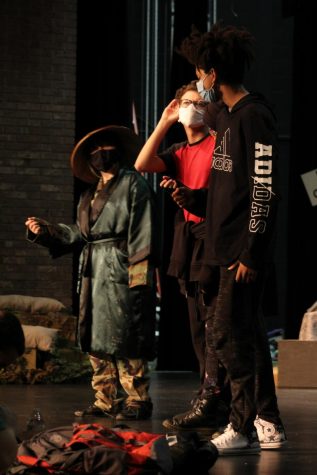 The week leading up to the final production to the play, or crunch time, is arguably the most stressful week.
"Crunch time is the worst because everybody's stressed out, everybody's all panicked," senior Owen Frizell, (Captain Augustus Bedford Forest) said. "We start rushing to get everything done: costumes, the set, getting all of our lines completely memorized. It's crazy; it's hectic; it's one of those things where you want to rip your hair out because it's crazy."
Many different elements were put into this production for the multitude of unique scenes it entails.
"This play has it all," Springs said. "We've got 1950s settings in a not quite a third-world country. There's a coffin, there's a Frankenstein scene, there's a little bit of romance, there's a lot of comedy, and there's definitely a dark undertone of the seriousness of what these guys went through."
Each actor and actress go through a stage of character development where they figure out how they will play their role.
"Firtzy is this really ditzy character and it's very enjoyable to be that person who you're not for a span of time," sophomore Alyssa McCalla said. "Fritzy is a part of me. You are this character who has this whole life story and personality. It's an awesome thing and I feel bad for people who aren't in theater."
"M*A*S*H"  will take place Nov. 17 and 18 at 7 in the auditorium, tickets are $5 for students and $7 for adults. Laner is selling tickets now, or they can be purchased at the door. Audience members must wear masks, and social distancing will be observed.
"It's a show," Wilson said. "Who doesn't want to see a show? School sucks. We know that. We want people coming in to support this so that we can do more for you."
About the Contributor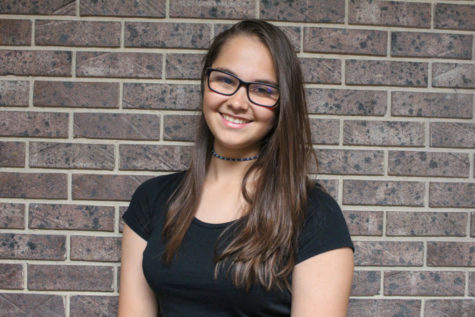 Savannah Athy-Sedbrook, Editor-in-Chief
Senior Savannah Athy-Sedbrook is a fourth-year reporter for The Oriole. She can often be found running around during ace to complete stories, as well as...