College recruiters notice hard-working athletes
Student athletes strive to earn recruitment opportunities to start their college careers and be able to play at the next level. The process of being recruited has many steps involved, one of which is receiving the offers. 
"I have been approached by recruiters from many different schools inviting me to wrestling clinics they are having," junior Aidan Chandler said.
The online world is a big aspect of teenager's lives and has even helped athletes reach out to schools. Senior Brice Helton was sent messages through direct message for most of his offers.
"I was sent either messages or letters asking to fill out my PRs [personal records] and other information about that cross country season," Helton said.
Recruiting apps can also make a difference in reaching out to coaches.
"I use the app University Athlete to make a profile for volleyball," junior Jadyn Jackson said. "I mostly used it to post highlight videos, but I also posted my grades and awards I have received."
Along with being messaged online, coaches also look for how hard the athlete is willing to work in the sport.
"I played a lot and practiced as hard as I could in order to be noticed because I know coaches look for those who are willing to put in the effort," Chandler said.
While athletes can reach out to the coaches themselves, they also take advantage of meets and tournaments for coaches to notice them.
"Only two of the schools I talked to came out to see me run, the rest of them watched me at the state cross country meet," Helton said. 
Jackson also had coaches watching her because she contacted them by email.
"I emailed different coaches my game times and some would come and watch," Jackson said.
As athletes reach high school age, it sparks a realization in their mind that athletes must truly work for what they want.
"All the time, money and effort I have put in since I started has lead me where I am today, even though I really did not think about being recruited till I got my first offer as a junior," Helton said.
Once athletes reach the point of choosing a college, the process could possibly get more stressful than the previous years.
"This year is not that stressful, but next year it probably will be," Jackson said.
This is where students start to put many hard thoughts into this to make sure it will be the right choice in the future.
"I had to really dig deep to see what was important to me because I had a nearly full-ride scholarship with Newman, but it was just too close to home," Helton said. "This is when I decided to rank them for what I liked best and what was best for the price, distance, and what the school offered. That is how I made my final decision to choose Emporia, which is what would work best for me."
About the Contributor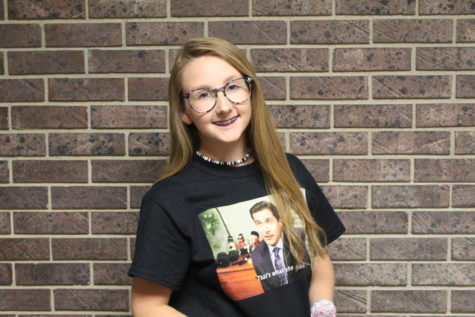 Maddie Smart, Co-Editor
Senior Maddie Smart is a third year reporter for the Oriole, and this is her first year as a Co-Editor. Outside of the newspaper room, Smart is involved...