Three wrestlers place at state tournament
Cheers and shouts fill the crowded arena of Tony's pizza event center. The stench of sweat mingles with the smell of mat cleaner. Determination gleams in the eyes of each individual wrestler ready to take their place as a state champ. 
Three wrestlers made it to the state championship this season, all of which placed. Junior Andy Lin placed sixth in the 106 weight class, sophomore Garrett Davis placed second in the 145 weight class, and freshman Grady Fox placed third in the 113 weight class. Hours of hard work was put in all season for this to happen.
"You start with the beginning of the year, making varsity, then you have to get better throughout the year and focus more on the one goal of making state," Davis said. 
Preparation for state starts for most wrestlers during the summer at a program called Summer Warrior. Each wrestler earns points for showing up to practices, duels, and tournaments and the highest-scoring wrestlers become the summer warriors.
"Whoever puts the most time in during the summer becomes our summer warrior," wrestling coach Brandon Terry said. "Our two summer warriors, the highest two, were Grady and Garrett and they were also our highest two placers."
Throughout the season, each wrestler worked their way toward state and eventually, Fox, Lin, and Davis made it there. Fox was presented with a tough match that would decide if he placed third or fourth.
"I'd gotten beat by the kid three times before," Fox said. "This was his last year because he was a senior. The toughest part was coming back and working harder because he'd beat me all those times."
Davis was also given a challenging match leading up to his final match.
"The semi-finals match that [Davis] won was against a two-timing state champion," Terry said. "That's a pretty tall order when the kid you're wrestling is a two-time state champ and only lost once this year prior to that match."
Davis was the only Augusta wrestler to make it to the finals for a shot at first place. 
"I got a takedown and I went out of bounds with it. I thought I would get it again, but then I ended up getting pinned," Davis said. "I was just shocked about placing at state, and I did not know what was happening."
Terry hopes that the three will motivate other wrestlers to push themselves to do better.
"Those guys set the tone in a big way: all of them brought home state metals," Terry said. "Just the other kids seeing that will probably lead into the whole scheme of the other kids believing they can do it and then realizing that they can be that caliber as well."
The work for next year will not stop anytime soon. Each individual has their own ways to prepare for the season.
"You got to keep on setting your goals, and once you get one place you gotta keep aiming higher," Fox said. "[I will do] summer wrestling still. I'm doing track as running to stay conditioned, more summer wrestling, a little bit of cross-country too."
The wrestlers pride themselves on how close they are as a team, and they support each other all throughout the season.
"I'm really proud to have went to state with [Davis and Fox]nand take pride to have placed with them," Lin said.
From staying in shape to repeated drilling, these winter champions have put in the work to achieve what they have.
"Our motto in the summer is summer warriors make winter champions and that's true," Terry said. "All three of those guys, they wrestled really tough and it was a heck of a fun weekend when that happens."
About the Contributor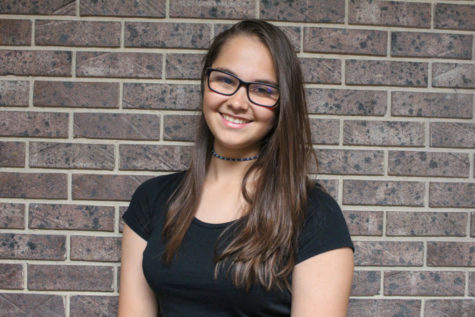 Savannah Athy-Sedbrook, Editor-in-Chief
Senior Savannah Athy-Sedbrook is a fourth-year reporter for The Oriole. She can often be found running around during ace to complete stories, as well as...