Electives, not required classes, offer ability to view future career choices
Enrollment is just around the corner, and students are scrambling to figure out what electives they want to take next year. Most students want to find the electives that connect with their interests or future career choices, but some students do not know what they will learn in certain electives.
Industrial technology teacher Cody Hager teaches woodshop classes and laser cutting classes, but his classes also focus on helping students learn what is needed to run a business. 
"One side is the production side and then the other side of the class is actually out in the woodshop," Hager said. "The students learn design, they learn working with customers, and they learn how to do inventory."
Hager works to help his students understand all the different parts of a business and ways to keep a business running.
"There's a lot of people out there that once they get a laser engraver, they start a business and it'll give them an idea on how businesses run top to bottom," Hager said. "It's a great way to understand how business works and how business stays profitable."
Hager in his classes makes sure students understand the small details of running a business.
"We talk about outcomes, and if we're going to sell an item, this is how much we have in it. How much do we need to make profits?" Hager said.
Woodshop and laserworks also allow students to be ready for business in all different kinds of careers. 
"Whether they work out in industry, whether it's anything like construction, woodworking, or they have their own business, they have to be able to go okay, what's working, what's not, how do we improve it?" Hager said.
Other business classes also help students learn multiple skills that will help them in the future no matter what career they choose.
"In my business classes, we cover balance sheets, assets and liabilities and business, investment banking, finance," business teacher Matt Childers said. "In my stock market class, we cover the stock market and students learn the importance of how the stock market affects the economy."
Childers' business background before teaching allows him to understand how business classes help students in the future.
"This is real world application sorts of stuff, right?" Childers said. "I teach them things that they're going to use on a daily basis."
Besides business classes, journalism classes also provide a set of skills allowing students to be successful in the future.
"Evaluating information, whether it being true or not, is an important skill students learn in my journalism classes," journalism teacher Julie Barker said. "Managing deadlines, communication, talking with other people, computer skills and time management are also taught in my classes."
Barker feels journalism classes present a gateway to all different types of jobs.
"I have had a former student who works for the National Park Service, and he uses the skills that he learned in my journalism classes," Barker said. "I have someone working in student affairs at the college level, students in advertising and even students who have become electricians."
Another set of electives that can be connected to a lot of different careers with useful skills is the art department. Art teachers Audra Shelite, Jason Filbeck and Adam Kroeker has classes ranging from graphic design to photography.
"I have principles of illustration, a painting class, so students learn watercolor and acrylic painting techniques," Shelite said. "Then advanced art is more about communication of ideas with the students' choice of medium and graphic design is learning how to create graphics and lights."
Art classes give students a variety of skills that are useful in all kinds of careers.
"Anything that they can learn about art to help them communicate visually, it's going to help them regardless of what career they choose," Shelite said. "It's pretty open ended."
Shelite does not want students to think that art is closed off and only leads to art related careers.
"A lot of students think that just being an art teacher is the only thing you can do with it, but there's a lot more than just art," Shelite said. "You're going to learn the basics that would then help you launch into what you're interested in."
About the Contributor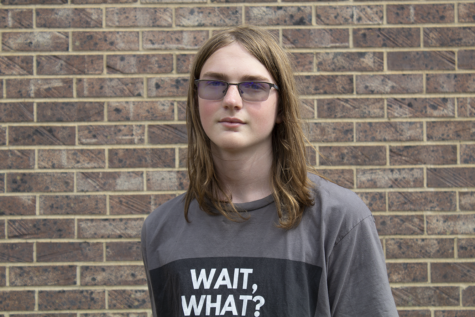 Justin Gwaltney, Editor-in-Chief
Junior Justin Gwaltney is The Oriole Editor-in-Chief. Gwaltney joined staff second semester of his freshman year. He enjoys playing 2nd bass drum for the...