Students use vending machines during school hours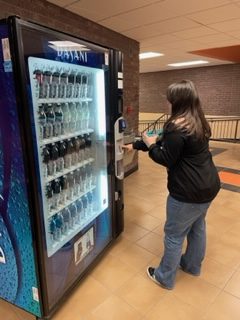 Sound of coins being dropped and snacks being opened, students have very different opinions about the vending machine.
"They need better options, they should have Starbucks Coffee," freshman Baylee Ohl said. 
Junior Brayden McQueen goes to the vending machine once or twice a week. 
"Normally, I get something to drink. It kind of just depends but normally a Powerade," McQueen said.
Sophomore Sam Vittitow normally buys a drink after weights class, normally a water or a cherry limeade it just depends what he is in the mood for. 
Junior Jori Stone does not go very often because she believes they need different options. 
"Make it not diet and whole wheat because that is gross," Stone said. 
While Stone likes what options the vending machines have now, she likes when the vending machines change options. 
"It makes it more fun when they give us different like the Dragon Fruit Fanta," Stone said. 
Even though the vending machine change up the drinks, Ohl and Stone think thie vending machines should be filled with regular Cheez-It and not whole wheat.
About the Writer
TiAna Arnn, Reporter
Junior TiAna Arnn is a second-year reporter for The Oriole. She enjoys writing stories and finding out about different events throughout the school and...