Senior newspaper members reflect on high school years: Savannah Athy-Sedbrook
Explaining the impact the Oriole newspaper has had on me in words is as impossible as finding a flying panda in the wild. I've rewritten this story so many times trying to decide what to say, but no matter how many times I start over, I will never be able to capture the love and memories I have for the people I've met and the experiences I was able to have. 
This year, I had the privileges of being the Editor-in-Chief of the Oriole– and what a ride it was. I still can't accept that it's over. This room, these people, have been the center of my world for four years. I was the very first freshman to join the staff, the first to apply and become the 3A/4A Kansas Student Journalist of the Year, and the first Editor to start a print magazine. While these are all wonderful things to put on my resume, they are so much more than that.
Many people explain high school as the best years of their lives; it was the peak of their existence. Not for me. I was involved in everything, but I struggled so hard to make friends and find a place where I feel like I belonged. Every B-day, I literally ran from my second block class to go to newspaper. That's home. In that room, I always knew I had a place. I had people who cared about me and what was going on in my life, and it became my happy place. Even in the midst of chaos, I was always having the time of my life. I knew I didn't have to be perfect, I just had to be. I may be helping one of my reporters make edits to their story or drafting up a social media post or polling students at lunch and sometimes even taking photos, but it was the best part of my week. 
On top of that, I met so many amazing people. My adviser Jbark, who never stopped believing in me and let me invalidate her invalidations with my very last story. My co-editors Maddie Smart and Justin Gwaltney, who I could have never gotten through the year without. My reporters Haley Jeter, Rachel Womeldorff, Alex Svard, Chadd Brown, Caleb Knollenberg, Hayden Blair, Ella Carrillo-Atherton, TiAna Arnn and Alyssa Ferrell who always put their best effort into everything they did and trusted me enough to confide in me. I will never stop being grateful for them. And even though it makes me cry to write, I am closing the book on my high school chapter. My heart breaks, but I know it's time for my final goodbye. 
Next year, I will be attending Northwest Missouri State University in Maryville, Missouri to pursue a degree in graphic design with a minor in journalism. 
Thank you Oriole staff, Oriole supporters and Augusta High School for giving me a platform to make my voice heard and learn the lessons I needed to so that I could become who I am today.
About the Writer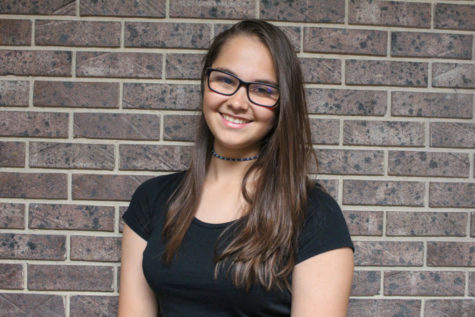 Savannah Athy-Sedbrook, Editor-in-Chief
Senior Savannah Athy-Sedbrook is a fourth-year reporter for The Oriole. She can often be found running around during ace to complete stories, as well as...