Board takes steps to merge elementary schools
Superintendent explains proposal 
The enrollment throughout all of USD 402 has been decreasing since 2013. Due to the decreased enrollment, certain grade levels at Robinson Elementary had to move from two classes to one.
In solution to this issue a proposal presented by the superintendent consisted of a merger in which Robinson Elementary would merge into Lincoln Elementary.
"The recommendation is to transfer the students and staff from Robinson Elementary to Lincoln Elementary in compliance with Kansas statute 721431 for the 2022 to 2023 school year and to pursue community focused options for the Robinson facility," superintendent Matt Ward said at a special school board meeting, March 7. 
Kansas statute 721431 directs districts in the procedures for closing a school building. Making sure the Lincoln Elementary building is capable of combining the students and staffs is important to this board and administration while working through the process of making a decision. 
"Lincoln was built to house three classrooms per grade level," Ward said at the board meeting. "It's currently operating with two. This means that Lincoln currently has available classrooms K-5. The recommendation from the district is that we maintain the current staff from Robinson and transition them over to Lincoln."
Taking on a new staff and student body would increase class sizes at some grade levels that currently have four sections between the two schools. This would also make every grade level have three sections. 
Merging schools also gives the opportunity of new collaboration between both staff and students. Parents at the meeting felt having three sections per grade gives a better option for students allowing them to find the right teacher and peers. 
"Showing them what it really means to be a community and what it really means to work together is what's important," Lincoln teacher Ashley Strohm said  at a special school board meeting, March 7. "I am willing to step up, and I am willing to welcome every single person from Robinson."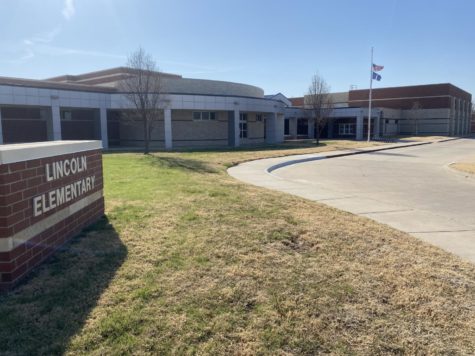 Decreased enrollment results in closure proposal
When hearing of the possible merger of Lincoln Elementary School and Robinson Elementary School, the question of how and why this is necessary comes up.
"I would argue, we have reached a tipping point where our district can no longer operate as it used to," superintendent Matt Ward said at a special school board meeting, March 7.
Robinson's enrollment has been declining since 2013 when enrollment was 2,281 students. In 2021, the enrollment had dropped to 1,990 students.
"I don't think it's appropriate to attempt to act like the district that we once were," Ward said at the board meeting.
Because of the decline in enrollment, the district has been losing money. Since the 2018-2019 school year, USD 402 has lost $964,730 in state aid . 
"We look at what is called an FTE which is the full time equivalent," Ward said at the board meeting. "FTE is what we base the budget off of." 
The class sizes of Robinson are also much lower than what the school board deems optimal. This causes Robinson to have a single class for each grade instead of two classes like it was made to hold.
"That's really a big reason why this push is coming over," Ward said at the board meeting. "From the logical perspective, operating a budget, operating a staff trying to provide the best opportunity for students, we recognize really quickly, it doesn't make sense to have a single section."
The reason Lincoln was chosen over Ewalt was another question and concern of parents and staff.
Staff and students share thoughts about merger
With talk of Lincoln Elementary School and Robinson Elementary School merging, concerns arose about students being able to travel to their new school. 
Transportation was a common question from the parents and staff during the board meeting until the board stated it would put a plan in  place.
"It is my understanding that they will be providing transportation for the kids that generally walk," administrative assistant for Robinson Elementary School Sherri Divine said. 
Divine spoke with the students to learn their thoughts on the topic. 
"To some of the kids I have talked with, they like the idea of getting more friends," Divine said.
The students were worried about losing some of the opportunities Robinson always offered.
"My son, who is a current second grade student at Robinson, is a little sad about the move," Robinson Elementary School resource room teacher Elizabeth Raine said. "He loves Robinson and his teachers. He is worried about the special activities and opportunities we do at Robinson."
Both Lincoln and Ewalt Elementary School were built to hold three classes at each grade level, but Garfield, built for two classes at each grade level, is using its full potential. The proposal presented to the board is to move Robinson students to Lincoln because the building is able to hold three classes at each grade level, and Lincoln is the closest school to Robinson.
"Lincoln is built to hold three sections of each grade level as well as the support staff, including special education and title support," Raine said. "I feel that we will be able to organize and rearrange to best allow all Robinson and Lincoln staff to have appropriate space and use of the facility."