Students react to new Butler college class rule
Wednesday, Jan. 27, sophomores and juniors were shown an enrollment video from counselors Harmony Davis and Audrey Nueschafer. The video discussed the process taking place over the next few CAPPS classes and mentioned a new rule going into effect for fourth block Butler College classes: unlike previous years, a free block would no longer be available on days class did not take place, students would instead attend a mandatory study hall. 
"I was very angry," junior Avery Riedel said. "I was sitting in CAPPS and everyone started freaking out. And I couldn't stop thinking about how I won't have any time to work out. I time-manage everything for myself, and I have for the last three years. And this really intrudes with that because that's the only time I have set aside to work out."
Students, specifically juniors, were confused as to why the rule is being put in place.
"I think that they kind of think that we just go home and do nothing, but in reality, we have lives after school that we have to get to," junior Catryna Winzer said, " and so I think they just kind of view us a little bit in an irresponsible light."
Currently, students use their free block for activities they would not be able to do otherwise.
"I usually go straight to the gym," Riedel said. "I leave straight from school, bring workout clothes and go work out then because that's the time the gym is least busy, and helps me not worry so much about COVID. That's what I usually do, but on heavy homework days I go home, and I get in my quiet space, and I get focused and get my homework done."
Homework and working out are not the only types of work students use their open block for.
"I have so much I need to do, and having that open block gives me a time I can actually work," Winzer said. "I have a job. I tell them 'Oh my open block, I can come then.' and then I have to come back for practice, and then I have another practice. There's no time in the day if I don't have that open block."
Juniors believe they should be given the chance to grow as individuals through managing their own time and working at their own pace.
"It's a privilege to take college classes, and we are held to a higher standard and higher responsibility," Riedel said. "We are preparing to go into college, so, it just seems like it'll bring everyone down; there's no motivation."
The videos provided in CAPPS did not provide an explanation of why the rule was being put into place.
"I along with my CAPPS class of juniors had a mixture of laughs and disappointment," junior Holt William said. "It's difficult as a student because it's hard to know where they're coming from."
Even with the change, a majority of students still plan to take college classes.
"I don't think that college classes are about the hours off," Williams said. "I don't know if I was going to take the hours off because I'm in electives, which I've been taking since my freshman year such as debate and band, so it's not like I'm trying to get out of those."
While students may not agree with the rule, Riedel understands how a study hall can be useful for students not meeting certain standards.
"I would say that if you have over a certain grade in your college classes, then you don't have to stay for those two hours," Riedel said. "But if you get under like let's say maybe it'll be an 80, then sure you should sit in a study hall and get help for those two hours and actually work on school and stay focused. But for the people who haven't struggled and won't be struggling this whole time, there's no point."
Students in the study hall would need to be monitored by a teacher or staff member outside of ACE time.
"I don't really see the point of just standing there and doing nothing," Winzer said. "ACEs are used for asking the teacher questions, and if we're just paired up with a random teacher to sit in their class, I mean, you can't go ask the teachers that you actually need help from."
However, teachers such as biology teacher, J.D. Hand, believe the change was a positive one.
 "If they get in a big hurry to get out, then they miss out on some of the things that are fun about high school," Hand said. "Maybe it would be okay to stay in band all four years, or to do the play your senior year or to be a part of sports teams all four years and not be in such a hurry to get out and try to do adult type things like getting a job and so on."
Hand believes that high school is a unique time students need to go through.
"I don't think it's necessary to try to rush through it and get out as soon as you can," Hand said. "There are benefits to taking college classes while you're here, but the way things currently work, kids can just basically miss the last hour and a half to two hours of school three days a week. It's kind of a waste of opportunity. They might take an elective course that they end up really liking and get interested in and change their mind on what they want to study in college anyway or maybe what career they want."
By understanding what is required in a college class, and how much the workload is compared to regular classes, Winzer sympathizes with next year's juniors who will not get the option of using the free block in their desired way.
"I feel sad for the upcoming juniors because they won't have the opportunity during their off block being able to go and rest," Winzer said. "I heard so many kids going home and taking a break from school by resting and then getting back into schoolwork."
Sophomores are realizing that the new rule will affect them as much as juniors.
"I didn't think it affected me that much at first because I haven't taken any yet, but thinking about it now, and really understanding it, I don't really like it that much," sophomore Ryker White said. "People won't be as inclined to take college classes because they like having the off periods, but now that they don't have that, they may not want to take as many."
Most sophomores agree that the rule will not change their interest in college classes.
"I still would take college classes just to better my future even if I do have to go to a study hall," sophomore Eric Boucher said. "I don't think I'm missing out on really anything, maybe free time but that's pretty much it."
Along with being frustrated at the lack of free block, students are concerned about being at school longer than necessary while in the COVID-19 era. 
"It gives more of an opportunity for COVID-19 to spread," Winzer said. "Even at basketball games, the moment the game is over you leave, you can't stick around, so I don't understand why we'll be clumped together with a class again, when we're at risk of spreading it more. It'll definitely heighten our numbers even and cause more quarantines."
Juniors such as Riedel, Winzer and junior Tommie Schaffner plan to talk to Principal Rick Rivera to voice their concerns and opinions.
"We started getting some people's opinions and talking to other people on how they feel about it and how their parents feel about it," Riedel said, "We decided that we want to wait it out a little bit to see if Riviera makes the final decision and says 100 percent we're doing this and that's when we're actually going to take the action. We're going to make a presentation, stats, logistics, this isn't going to be messy, we're going to get our facts straight from the direct sources. I plan to collect a bunch of data, put it into a presentation, and the plan now is to bring it to Riviera, but we've been talking about going to the school board as well."
Winzer specifically aims to know that her words were heard and have some effect on the situation.
"I think my end goal would be being able to talk to superiors and having them actually listen to us," Winzer said. "I feel like so many times petitions go around and nothing happens and I remember I was sitting in a class and my teacher told me this is the way it's going to be. There's no ifs and buts."
Riedel believes students' opinions are not fully taken into account when decisions such as this are made.
"We have no control over this because of our status," Riedel said. "It's our lives that he's making the change for without any consideration for our opinion, so I'd be pretty upset, but I guess there's nothing we can do after we try our hardest to make a good compromise."
Williams believes explaining the change in a different way may have been beneficial to student reactions.
"I hope that they speak on it more," Williams said. "Maybe a better delivery than in the middle of your CAPPS class with the opportunity to ask questions and receive solid answers from people who started this. I really think they should for our sake as students but also for their sake. I don't want them to be resented."
As sophomores and juniors begin preparing for the next step in their life, they believe they should be given more responsibility rather than staying in a controlled environment.
"We're going to be 17 and 18 year olds next year," Riedel said,  "and if they want us to be prepared for college I don't think controlling us even more in ways they shouldn't have to is the right way to go about it. In college you don't go to school from eight to three. You don't have that set schedule. You don't have to sit in a room for two hours doing nothing because teachers tell you to, and I think the best way they can prepare us for college is let us have some more freedom rather than keep us in the building."
About the Contributor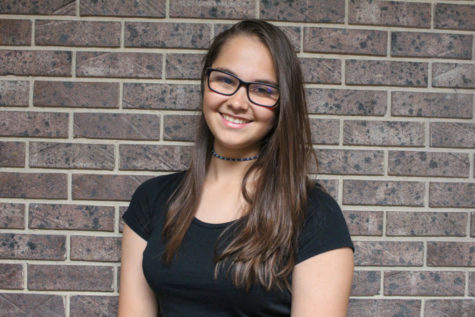 Savannah Athy-Sedbrook, Editor-in-Chief
Senior Savannah Athy-Sedbrook is a fourth-year reporter for The Oriole. She can often be found running around during ace to complete stories, as well as...