Bringing out Christmas joy with decorations
The room is filled with Christmas trees, nutcrackers, wreaths and lights, the smell of hot chocolate in the air, movies on the tv and snow falling outside, giving off jolly spirits during the holiday season. 
Some families enjoy decorating for Christmas during the month of November, even before Thanksgiving comes around. Junior Tommie Schaffner likes to decorate in the middle of November.
"I decorate my room on Nov. 15 every year, specifically that day because it's not too early, and I like to enjoy the Christmas time for as long as I can," Schaffner said.
Other families usually wait until after Thanksgiving has ended, but due to the pandemic, some usual times have changed. 
"My dad does not let us decorate until after Thanksgiving, but we were quarantined so we did it like two weeks earlier because we had the time," junior Jacob Dieter said. 
When it comes to the actual decorations, Christmas items fit in every room in the house. 
"My family decorates the entire inside of the house including bedrooms and bathrooms. It is completely decked out for Christmas," Schaffner said. 
Christmas trees are popular items that come in all different sizes for around the house. The Christmas tree tradition began in Germany in the 16th century when Christians bought decorated trees home. People believe Martin Luther added the first lighted candle to a tree.
"Almost every single room has a Christmas tree putting us at having around 10 Christmas trees," Schaffner said.
Along with the tree, they are usually always decorated with ornaments that come in many different colors, shapes, and sizes.
"I like decorating the tree with all of our old ornaments and getting some new ornaments each year," sophomore Eric Boucher said.
Decorations can be both small and large, ranging from small snowmen to miniature town figurines.
"I like to decorate all the tables, shelves and bookcases with all sorts of things. We have a small display case with nutcrackers, angels and little plush snowmen," Dieter said. 
Dieter likes to take over the decorating in his house and knows where he wants everything to go.
"I personally am the one that puts everything up because I have a good eye for design and we have a lot of ornaments hanging from the tree, lights outside, a little town with people and ice skaters, Christmas potholders and towels, Christmas art and snow globes and so many other things," Dieter said.
Other classic Christmas decorations can be placed anywhere to give off the Christmas spirit.
"We put up garland, wreaths, Christmas trees, and lights. My favorite has to be the garland because it is so pretty and looks nice around the house," Schaffner said.
Decorating with the family can become a tradition for everyone, and some say it boosts their mood.
"Decorating is fun because it means Christmas is close and I love Christmas. We listen to music and the Christmas candles come out. Christmas puts me in such a better mood, and I become a whole new person," Dieter said.
The thought of decorating can also be a stress reliever for some students since it is close to the end of the first semester.
"Decorating is enjoyable because it gets you in the holiday spirit and helps remove the stress of school and upcoming finals," Schaffner said.
The decorations add a new touch to the homes of many and can really change up the look of things.
"I think what makes it so fun is that we get to change things up around the house to really give it the Christmas vibe," Boucher said.
About the Contributor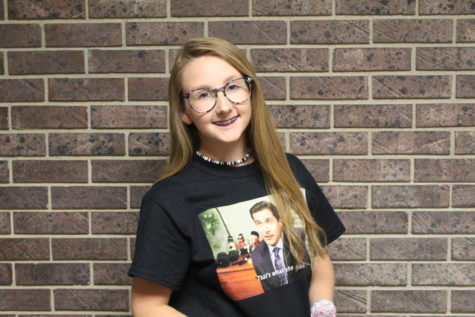 Maddie Smart, Co-Editor
Senior Maddie Smart is a third year reporter for the Oriole, and this is her first year as a Co-Editor. Outside of the newspaper room, Smart is involved...