Mental health, suicidal thoughts threatens teenagers normal life
Editor's Note: The stories in this article mention abuse, depression, suicidal thoughts and other sensitive material. The names of these sources have been changed to protect their right to privacy. 
Mental health has a large affect on a person and their life. Everyone has a different situation and a different reason that causes depression, suicidal thoughts and sometimes actions.
Linda's Story
"I'd probably say my mental health started going down hill during the summer of eighth grade. I got into a lot of trouble and was eventually put into therapy," Linda said. "I've had anxiety for as long as I can remember, and that got so much worse as middle school progressed."
Oftentimes, family members have an influence on a person.
"My family had a lot of negative effects on my well-being," Linda said. "They pressured me to look a certain way, act a certain way and even feel a certain way."
This manipulative behavior had strong negative effects on Linda's mental health.
"I felt alone, and I started to hate how I looked, and I didn't have many friends that I could talk to about this; this led to a lot of suicidal thoughts and actions," Linda said. "At the time it seemed like it was the only option. I'm currently in the best mental state that I have ever been in thanks to my best friend and my boyfriend." 
Tim's story
Sometimes, household issues go beyond manipulation .
During his elementary years, he lived with his dad and step-mom. However, he said he constantly fought with his step-mom and his sister. Because of this, he moved in with his grandparents. 
Tim had only lived with his grandparents for six weeks when his living situation changed again, Tim had no choice but to leave his grandparents house and go live with other family members.
"While I was there, [they] would abuse me mentally, making me feel like I was nothing … sometimes even abusing me physically," Tim said. "I eventually had enough and called my dad to come pick me up. Now, two years later, I'm doing better, and I'm the best I've ever been." 
Evan's Story
Struggles are not always personal, they can include the whole family as well.
Evan had spent some time out of state but moved back to Kansas after a while.
 "It was supposed to be a fresh start to get back on our feet after four years at our grandma's," Evan said. "Things didn't go as planned, and without any other choice, we had to move back to Kansas." 
Not having a stable home caused extra stress not just for Evan but for his family.
"My family and I didn't have a place to live for a while, so we went from home to home for a few months," Evan said. "We were eventually able to find something local here in Augusta."
Even through this period, Evan was able to remain positive.
"If you can find a way to focus on the little things and attempt to be more positive, you'll notice that it'll affect your outlook on life. You will start to feel much happier," Evan said.
In all three stories, the students each had people to help them. According to screening.mhanational.org, it is very important to check up on friends, family, classmates and strangers. All three students were able to get help and make it through the struggles.
If there is someone struggling with feelings of depression or suicidal thoughts and actions please text or call one of the hotlines or feel free to contact one of the schools counselors listed below.

About the Contributor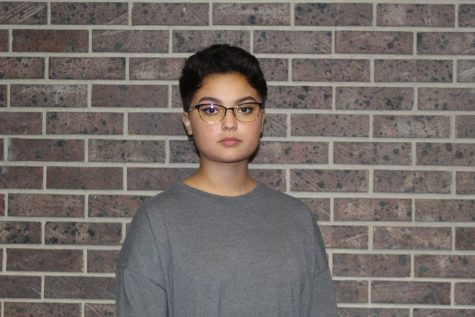 Claudia Stirewalt, Reporter
Claudia Stirewalt is a Sophomore. She loves to read and write. She spends her free time with her friends and family. More often than not, you can find...