Marching band puts in the work
Being apart of the marching band takes determination, focus and hard work. 
Many practices out of class take place during the year to ensure the band is prepared. Sectionals are practices where leaders practice with their section during ACE. 
The leaders can schedule sectionals for any day, but there is around ten are scheduled for the year, but only four are mandatory per semester. Sophomore Avery Reidel is involved with band and sports, which could be tough in certain situations.
"It's usually not that bad, but it's kind of tough to balance everything with volleyball," Reidel said.
Practices are not the only time-consuming aspect of band, learning the music requires many tries to perform just right. The members have to put in a lot of hard work and concentration at practices. Senior Jacob Reavis is dedicated to band and always finds ways to help.
"Lots of repetition. We learn our movements in three sets and that's all we do until it is perfect," Reavis said.
As for practices, they meet multiple times. There is a week in the summer where they spend seven hours each day to  During the school year, the band has occasional morning practices and sectionals. Co-Director Todd Hollis feels extra practices are important for the success of his students.
"We need them; I don't think we can get everything we need done in the scope of class time," Hollis said.
The theme for the band's show changes each year. This year's theme is the music of Queen. Queen is a British rock band formed in 1970. Songs that the band will be performing are Bohemian Rhapsody, We Will Rock You/We Are The Champions, and Don't Stop Me Now.
"Everyone loves it, and I literally can't stop myself from singing," Reidel said.
Writing music takes a long time, especially when there is more than one piece. Reavis had the honor of arranging this year's music, which is very new for high school. This was something that made him feel appreciated.
"It was an honor but kind of a short time frame and rushed to get everything done, although I think it went pretty well," Reavis said.
As Reavis was put in charge, Hollis did have some worries, but Hollis was impressed with Reavis' work.
"I was concerned that it wouldn't turn out the way I'd hoped. He's never done anything like that before. I actually had a backup plan just in case, but in the end, it was amazing. The quality of his arranging work is professional," Hollis said.
About the Contributor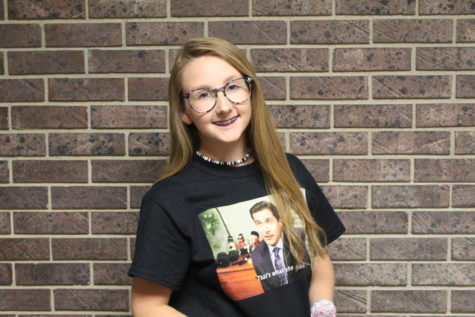 Maddie Smart, Co-Editor
Senior Maddie Smart is a third year reporter for the Oriole, and this is her first year as a Co-Editor. Outside of the newspaper room, Smart is involved...