Seniors become impatient as Disney-themed prom draws near
Growing up, it is normal for a little girl to watch Disney movies and imagine herself in the princesses shoes. Maybe she dreams of being in the arms of a handsome prince.
As girls grow older, they start dreaming of high school and going to prom.
Now imagine having both of these combined: A "Beauty and the Beast" themed prom perfectly captures the fantasy some girls grew up dreaming of.
"It's honestly a perfect collaboration of my childhood," Ashley Prentice (12) said. "I used to watch Disney princess movies all the time, and then watching movies like 'High School Musical' made me excited to go to prom one day, too. Couldn't be a better mix."
Some girls are excited for prom; however, they are not looking forward to the expenses that come along with the big day.
"First off, I'm paying $60 for dinner and the party bus. It's a great deal honestly," Jennifer Siviseth (12) said. "I have to pay for my hair, makeup, nails, everything. Not to mention the cost of my dress. Plus, driving around so much, I have to get gas this week, too."
Many girls think getting ready prom is the most fun part of the day, while others find it to be more stressful.
"I am so busy the day of prom. I have to work my appointments around my schedule and also be ready in time for photos," Prentice said. "I love to be dressed up and pretty, but getting there is the part that isn't so fun."
Another aspect to the prom experience is royalty.
Every year, the fall and winter homecoming kings and queens choose four girls and four boys to be prom candidates.
The prom queen candidates are Katie Rockers (12), Karli Dodds (12), Jaci Bogner (12) and Bailey Pennycuff (12).
"I think it's an awesome opportunity to be a part of prom court, but no matter who wins, I really just hope to have as much fun as possible for my last high school dance," Rockers said.
Additionally, the school will not be hosting an after-prom party like it has in past years; however, they encourage students to be safe and have fun while being sober.
Efforts for this movement was proven April 17 during Operation Sober Prom. Juniors and seniors had the opportunity to leave their 2B class period to go outside and watch the skit Heidi Seiwert (12) coordinated for her senior project.
"Someone had done this for their senior project years ago, so when Thompson and I were brainstorming ideas, this came up, and I ran with it," Seiwert said.
During the skit, Noah Coldwell (11) was depicted as the drunk driver. Charles Lighty (12) was riding in Coldwell's passenger seat when he wrecked into Madison Griffith (11). After Lighty died on scene, he was put in a body bag and Augusta police carried him out.
"It was all super realistic," Coldwell said. "When I got arrested, they handcuffed me and sat me in the back of the cop car with AK's and shotguns. It was sick."
About the Writer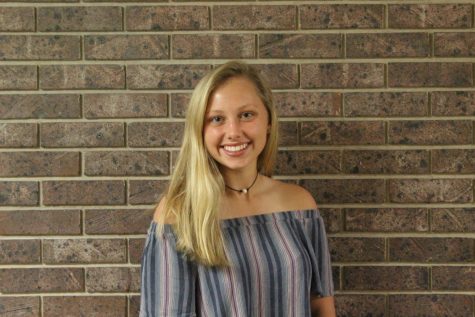 Bailey Pennycuff, Editor-in-Chief
Editor-in-Chief Bailey Pennycuff (12) has been a part of The Oriole staff since second semester of her freshman year. She has come a long way from where...