High school Girl Scouts show dedication
When people think of Girl Scouts, the first thing that comes to mind is cookies, crafts and uniforms. The difference between this thought and the reality is the age of the scouts.
Even though the troop numbers decrease as girls get older, plenty of high school girls still work toward the awards and benefits of remaining in the program.
"High school scouts is a lot more of helping the community," Jolee Roberts (9) said. "When we were back in elementary, it was a lot of badges and cooking; now that we're in high school, we've matured past that childish level and are focused on helping the people in our community."
The older girls work towards many awards, including Bronze, Silver, and Gold awards, that require hours of community service and hours of work. They also complete badges and Journeys of all different sorts.  
"My greatest achievement in scouts would have to be my Silver Award," Kassidy Miller (9) said. "It's the second highest award a Girl Scout can get. It's 50 hours of community service, and you pick a project that can sustain itself."
Do not let the work hide what is actually happening; the girls have a lot of fun hanging out and going on trips together. Many of their trips include camping; where they pitch tents, cook their food by campfire, hike, and experience wildlife at its finest.
"It was a lot of fun to get to see nature and laugh with each other and be away from all of the drama from school," Grace Stueven (9) said. "We scared a couple of the girls during night; they weren't super happy, but it was pretty funny for us."
The girls have a lot of fun memories to share from a Girl Scout Jamboree in West Virginia.
"We had to walk a mile to breakfast, but we talked so much on the way, it was worth it," Stueven said. "It was pretty funny when the Boy Scouts pretended there was a snake in the road to make us walk an extra mile."
Troop leaders agree that Girl Scouts is a program that helps many girls develop useful skills they  will use throughout their lives.
"I think they have all grown really well as far as leadership, public speaking and planning trips," Troop 40326's assistant troop leader Micah Miller said.
Most of the girls are encouraged to stay in the troop and the ones remaining continue to show their dedication.
"I think my girls will graduate high school having completed Girl Scouts," Troop Leader of 40326 Samantha Stueven said. "It teaches valuable leadership skills and life lessons."
According to the girls, scouts is a hard-working organization that is constantly grouped with the stereotypes.
"They assume it's a lot of uniforms and lots of crafts and don't really see the trip parts of it or the different badges we have to work on," Grace said.
As many of the girls inform outsiders, that is not typically the case within the troops.
"We have all the options that Boy Scouts have, so some troops can be more action-focused and can go on a lot of trips and learn how to tie knots or make campfires," Grace said. "You can also have your stereotypical Girl Scout troops; very crafty, slumber parties together, cookies, cookies, cookies."
The girls fundraise from February until the middle of March, selling cookies at booths and on their own time so they can earn money for future activities. Cookie season this year starts Saturday, Feb. 9 and goes for six weeks.
"The best part is interacting with people at the cookie booths, because they're always so funny," Roberts said. "People will pay a bunch of money and sometimes the people are generous enough to give us some extra cash, and it makes me smile. They don't have to do that but they do because they're so supportive of us and what we do with the community."
Some Scouts like to retell the stories that explain the lasting bond they have created with each other through all the time together and activities they've done.
"We've been in Scouts since Kindergarten… so we've had a really close bond; we're like sisters." Kassidy said.
The entirety of the four girls in Troop 40326 all have much to say in terms of the friendship and sisterhood they've created.
"A lot of the fun from Girl Scouts is having people in the troop you can talk to and just being able to communicate outside of a school setting," Grace said. "There's a lot more of a close bond between the girls when you stay in it throughout high school."
No one should underestimate the closeness of girls who have spent years in each other's company.
"I met my best friends in Scouts, and it's all about bonding with the people in your troop," Roberts said. "We're all one big family, and it's the best."
About the Contributor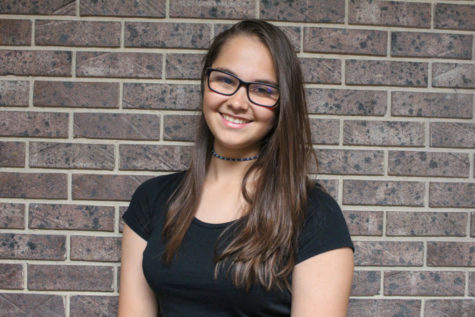 Savannah Athy-Sedbrook, Editor-in-Chief
Senior Savannah Athy-Sedbrook is a fourth-year reporter for The Oriole. She can often be found running around during ace to complete stories, as well as...