Laser engraver available for use during workshop
Industrial art classes now have access to the new laser engraver. Laser engraver can be used for multiple tasks, but mainly it is used to engrave words into images into objects. 
The laser engraver was purchased as a part of the Career and Technical Education (CTE) program. 
"As a part of our CTE program, we're always looking to expand it and really look at it as a piece of equipment that could be used by our business classes, shop classes, art classes to really expand our students' experience and things that we can do," Principal Rick Rivera said. "It's a great opportunity for students to design something and be able to see the end product."
With the new equipment being available in shop classes, students have the chance to create designs on their work. The shop classes have used the laser engraver on objects like cutting boards, tumblers, glass and other projects that students have done.
"Personally, I've made a couple of cutting boards for the principal, brown dog BBQ and some other things here and there," junior Brock Hallmark said. "I am now looking forward to making things. I'm looking around to see what I can laser engrave."
With businesses using laser engravers and other advanced technology to create products or tools, students wanting to work those jobs need to be educated to do so. Creating new merchandise is also a possibility with using the laser engraver to enhance tumblers, cutting boards and making it available for purchase can create a profit for the school.
"There's a lot of companies and engineering companies in the aircraft industry that use laser engravers on a daily basis, and so when we can get our kids to have those skills they can go to those places and get jobs where they already have experience running that equipment," Rivera said. "The junior class sold tumblers to raise money well, we could produce those ourselves and have more of the profit."
Now that students are using this equipment as an opportunity to create projects, it is necessary for students to understand how to use it, and feel comfortable around them. This provides students the opportunity to use the skills they learn in other classes.
"We've been able to use math by calculating the circumference of items to engrave. We have had students that normally couldn't sketch out their printmaking yet are able to cut out sketches with the engraver," shop class teacher Cody Hager said, "so being able to go cross-curriculum with other departments to make it beneficial. 
About the Contributor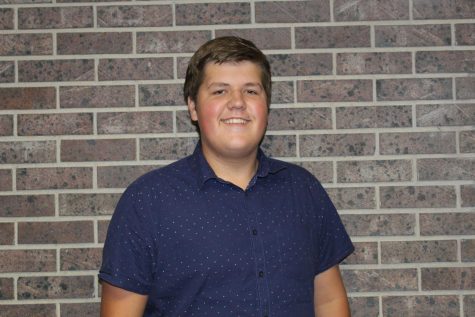 Chadd Brown, Reporter
Senior Chadd Brown is a third year reporter for The Oriole. He is determined to become a college athlete. You can see him getting quotes for story's and...