Lady in the case: remembering Jeanette McDaniel
The Mr. Laner of the '80s, Jeanette McDaniel is also known as Miss Mac. She was a teacher at the high school for over 30 years teaching English comp and lit, debate, speech, drama, forensics and was a thespian sponsor. McDaniel passed away May 9, 2007, but her legacy continues through the students and colleagues she influenced.
Students at the high school might not know who she is personally, but her picture is inside the glass case by the library along with her trophies and plaques as a tribute to everything she did for Augusta.
She was most known for her homemade pantsuits. They consisted of a blouse, vest, pants, and ruffles on the collar and wrist. She wore one every day and she always wore her outfits according to the seasons of the year.
"We always used to laugh around the holidays because she would change up her pantsuit colors," debate teacher Tim Laner said.
Inside the classroom, her teaching style was very demanding. She was fun but strict and did not put up with poorly behaved students. She never sugar coat anything and always said words from the hip.
"She was an old-school teacher, you come in, you sit down, you be quiet, and you let her teach," special education teacher Steve Reichardt said.
People were not typically on her bad side, but there were occasionally those people, and people who were on her bad side knew it.
"Very intelligent, funny, well respected, and you sure as heck didn't cross her." history teacher Joan Reichardt said. "If you crossed hairs with her, she would let you know."
Outside of the classroom, McDaniel was in charge of the theatre department. She ran all of the musicals and plays but in her last couple of years of teaching, she let health science teacher, Craig Thompson, run the musical. She never went without asking him if he needed help with anything, due to her extensive knowledge about it.
"Even though she wasn't involved with the plays anymore, she would always come up and ask about them. She would always ask what show we were doing, and it was incredibly encouraging," Thompson said.
Every four years, McDaniel put on a variety show that all the teachers participated in. Around the time "Achy Breaky Heart" by Billy Ray Cyrus was a popular song, she convinced drafting teacher Steve Pazzie to lip synch it with a group of women behind him.
"She was the driving force of putting on that variety show," Joann said. "She spent months coming up with skits and made sure it was always related to what was going on."
People knew her as a voice of reason and listened to her. Students who had her for debate and forensics especially listened to her because they knew that they would learn something. Even teachers would listen to what she had to say.
"If something came up about an issue in a faculty meeting and she had something to say, you listened," Steve said.
In the debate and forensics world, she was very well-known. Coaches know that she was good and it paid off in the long run or else she would not have two full trophy cases dedicated to her.
"I know she was well respected around the area because I knew other debate and forensic coaches from other schools always knew she had good teams and good programs," Steve said.
Science teacher Brian Hallmark was one of McDaniel's students and his best memory with her was the spring play. 
"My fondest memory of Miss Mac was when she took a bunch of us jocks out of our comfort zone and made us try out for the play in order to get an A in her class," Hallmark said.
About the Contributor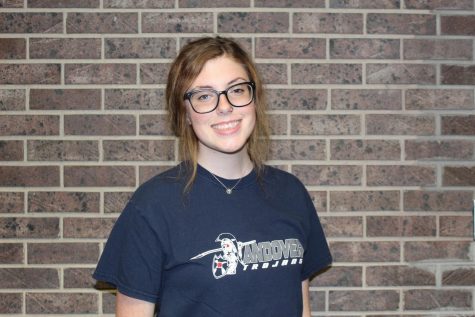 Emma Stueven, Reporter
Junior Emma Stueven is a second year reporter on The Oriole. Stueven is determined and wants to make the most out of her high school years. Outside of...