Broken records and memories
With all spring sports canceled last year due to the pandemic, track was ready to set its mark this year with broken records and memories. So far, track athletes have broken three long-standing records and tied one more.
Senior Maycee Anderson broke the girls long jump record at 17' ¼". Mindy Gibbs held the record since 1991 at 17' ½". Maycee also tied the girls pole vault record at 9´0¨ which Brittany Latham set in 2006. 
¨It was because of my brother that I was able to jump 17 feet. I wouldn't have been able to do it without him," senior Maycee Anderson said. 
Anderson said she was way too competitive to give up, and she was determined to break the long jump record. When Anderson and her mother found out she jumped over 17 feet three times in a row, they were shocked. Her brother has been working with her and was a great help since he had experience being on the Butler Community College track team. 
¨She is a very strong individual who works to improve every day,¨ track and field coach Steve Reichardt said, ¨She is the type of person who you know will be successful in whatever she chooses later in life.¨
Junior Sawyer Schmidt broke the 1600 meter with a time of 4:21.5 previously set by John Lara since 1975 at 4:22.5. He also broke the 3200 meter with a time of 9:17.81 previously set by James Glaze since 1971 at 9:22.3. 
¨Sawyer broke this record at the Shawnee Mission North, which happens to be where I went to high school and ran track, that was a special moment for me,¨ Reichardt said. 
As junior Sawyer Schmidt describes during the one mile after a lap in he decided to push the pace with the race starting slow, and in the two mile he tried to cruise behind the leaders and make a move with 300 meters left. 
¨After the race, I was excited but when I found out I broke both records I was beyond excited,¨ Schmidt said. 
By winter Schmidt starts preparing for track season building up his aerobic base and as the season pushes closer he starts to work on his speed work. The day before a meet he always takes an easy run so he feels fresh for race day. 
¨Breaking both of the records has been a goal of mine since freshman year, Schmidt said.¨
About the Contributor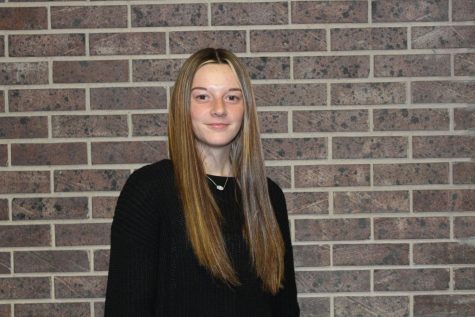 Alyssa Ferrell, Reporter
This is senior Alyssa Ferrell's third year on staff. She enjoys seeing her friends, working, and volleyball.