Lady Oriole soccer team suffers numerous injuries
With the 2020 spring soccer season canceled, the Lady Orioles were looking forward to the 2021 season, which was expected to be one of their best seasons. However, the team has recently suffered major setbacks. Players have been hit by a wave of injuries ranging from concussions to hyper-extended knees.
"We are currently missing 25 percent of our player roster due to injuries, illness or family issues. Injuries are a part of any sport," head coach Matt Childers said. "We have had more than our fair share. We have moved players around, worked through various formations and tactics in an effort to be the best we can be on the pitch."
Freshman Bronalea Thies, along with two other players, currently suffers from a concussion. Senior Ellie Rooney recently recovered from her second concussion, the first was during her sophomore year. 
"When I reinjured myself, all I could think of was 'not again'," Rooney said. 
Rooney's first concussion was a result of a car crash, which left her out of the game for most of the season. Rooney was hopeful to remain injury-free this season since the only full season she had was her freshman year.
While Rooney was able to play her first season at the high school level, Thies will not be able to say the same thing. Thies suffered a concussion after heading the ball twice during a match. 
"When I injure myself, I don't really come to the conclusion that I'll have to listen to my body and take the time to heal in order to get back to playing," Thies said. "I push myself further than my body can sometimes handle, so many emotions can go in and out of my head."
Despite this mentality, Thies is limiting screen time and sleeping to allow her concussion to heal. Doctors told Thies, on top of the three weeks she has already been out, she could be waiting anywhere from three more weeks to a month before she is back on the field.
Concussions are not the only injury players have experienced, sophomore Gracie Dalziel re-aggravated a past injury. When Dalziel was 14, she tore her hip flexor.
"I re-injured myself on March 30, and I did think it would happen, but not that early in the season," Dalziel said.
Dalziel is able to stay in the game by going to the chiropractor weekly, taking pain medication, regularly using Biofreeze and making sure she stretches out completely. 
However, stretching does not always keep a player in the game, senior Isabel Harrold hyper-extended her knee in a game against McPherson. 
"I never thought I would have injured anything with the 13 years I have been playing," Harrold said. "I haven't had to sit out for any injuries for a period of time." 
Although sitting out can help heal injuries, it can affect the psyche of a player on the bench and those on the field. 
"It's tough seeing a teammate injured, but the younger players have stepped up to fill the roles when needed," Childers said. "At one point, during our Circle match, arguably one of the best sides in Kansas, we had eight freshmen on the pitch and played 11 of them."
Once all the team is healthy, Childers is confident the team will begin winning more games and scoring more goals.
"This team knows how good they are. They are resilient," Childers said. "As our starters return from injuries and we return home following a five-match away stretch, these girls will begin putting up some numbers and earning results."
In order to prevent future seasons such as this one, Childers and JV coach Jeremy Bowman have devised a plan. Athletic director Travis Olive and Strength and Conditioning teacher Jason Filbeck are helping Childers and Bowman make their dream become a reality.
"We are looking into implementing a weights training program specific to girls soccer," Childers said. "We have engaged Mr. Olive and Mr. Filbeck in preliminary discussions regarding the program and are both obviously supportive. Coach Bowman and I are meeting with Mr. Filbeck this Monday to begin outline the weights training program."
This program would allow female soccer players to build strength in their calves, quads and hips. Although this may be the plan for the future, Childers still has the best interest of current players in mind.
"These girls don't always hear from the coaches how proud we are of them," Childers said. "We need to do a much better job of maintaining confidence and love of the game while offering constructive feedback. I'm quick to criticize and slow to praise. That's gotta change."
About the Contributor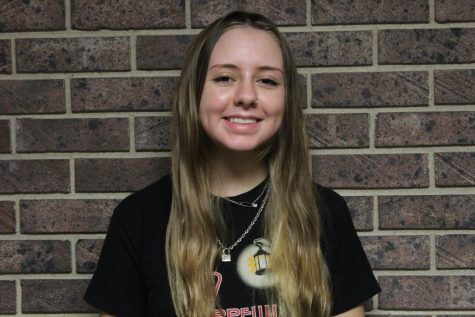 Emily LaPlant, Managing Editor
Senior Emily LaPlant has been on staff for three years and is one of the managing editors for 2020-2021. When LaPlant is not in the newspaper lab she can...