Halloween safety during COVID-19
This time of year, temperatures drop, leaves change colors and children's joy grows as Halloween is around the corner. Thoughts of children walking through neighborhoods in costumes and going up to different houses to receive candy race through the minds of the community. Although Halloween is a joyful tradition celebrated every year, COVID-19 has made people, like junior Kassidy Miller, concerned about the safety of handing out candy during Halloween night. 
"I just wonder how trick-or-treating is going to be safe for all of the people out that night," Miller said. "With how chaotic this whole year has already been, I would hate to have the COVID-19 numbers raise in Augusta. I doubt anyone wants to go back to being strictly online with school."
With the numbers constantly changing, Halloween night's impact could change the community by enforcing more strict rules and could turn over the school to online once again. Although these issues could occur, Miller believes as long as all citizens follow the regular COVID guidelines, it should be a good night.
"I know a lot of people do not wear their masks or still believe that COVID is a hoax, but many people handing out candy in Augusta do have some health conditions that could worsen that night," Miller said. "We do have quite a bit of elderly people who live here and love to interact with the children. If the children are not wearing masks and using hand sanitizer, it could lead to future problems for our elders." 
With the concerns of those handing out candy, City Manager Josh Shaw expressed the City of Augusta does not have any specific rules regarding COVID-19 for the night. Nonetheless, Shaw recommended how to be safe during the fun traditional night that citizens adore. 
"The City of Augusta has not adopted a city-wide mask mandate or any specific orders pertaining to trick-or-treating," Shaw said. "Although we do recommend that trick-or-treaters and parents follow guidelines prepared by public health professionals at the Kansas Department of Health and Environment. Parents could follow up with the Centers for Disease Control for celebrating Halloween safely as well."
Just like Shaw, Mayor Mike Rawlings is only one of nine elected city officials on the city council to be involved in safety concerning the virus. 
"The situation we are facing with the COVID-19 outbreaks in our country is certainly one that every city is taking seriously," Rawlings said. "As of October 22, Butler County and the City of Augusta are allowing citizens to make up their own minds as to wearing masks and where or when they go places. The Augusta Safety Department has decided not to host their usual trick-or-treat event as a precaution although they don't discourage trick-or-treating by anyone else, but will still have the normal patrols in our city to protect the citizens."
As Halloween gets closer, Rawlings has received questions about what areas, if any, are not going to be participating in the event. 
"There is currently a Facebook page called Trick or Treat Stops that are listing events and personal addresses of places that have chosen to pass out candy for the children," Rawlings said. 
Even with COVID-19 happening, Rawlings believes Halloween will still be a wonderful tradition celebrated this year as long as everyone proceeds to be safe and courteous. 
"I urge everyone to do what they feel is right or necessary in regard to COVID-19 and trick or treating this year," Rawlings said. "I have enormous respect for our citizens to do the right thing and respect others as well as make good decisions for themselves. As always I ask all persons to be respectful of others' property and to be careful in crossing the streets and Halloween will be a great night."
About the Writer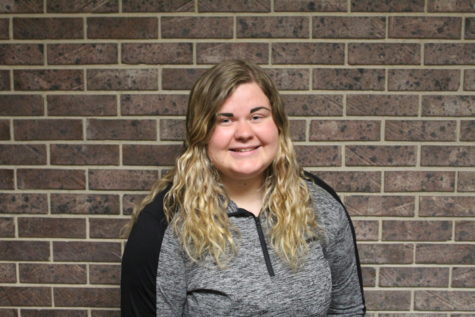 Savannah McMichael, Co-Editor
Senior Savannah McMichael is a third year reporter and first year Co-Editor on The Oriole staff. McMichael is a very enthusiastic person who tries to...