Music programs make changes as COVID-19 progresses
Bell covers, puppy potty pads, 30 minute breaks and more have all been incorporated into the daily routine of these musicians.
The school has three music directors, one choir and two band. Jerrod McNutt, choir director, Todd Hollis, band director and James Hollingsworth band director.
One of the safety measures that has been implemented in the band was bell covers. Studies at the University of Colorado showed that aerosols were coming out of instruments when they were played and one of the fabrics that was said to reduce the spread was nylon. 
"Mr. Hollingsworth and I had the duties of going to Walmart and buying all their pantyhose," Hollis said.
Every once in a while, brass players build up saliva in their water keys. Typically they dump it outside or on the ground but this year they had to implement puppy potty pads to do the job.
"Brass players have to empty their water keys out; they have to control that," Hollis said.
Across the hallway, the choir is doing things differently as well, including the number of students taking the class.
"The numbers are way down due to the nature of singing and potential for spreading COVID, therefore, not many students took my classes," McNutt said.
Mask breaks for the choir are required every 30 minutes. Many students said singing with masks on is very difficult due to not being able to open your mouth all the way.
"I take one big mask break at the beginning of class," McNutt said. "We go outside and walk laps around the track and sometimes do our warm-ups outside too so that we can sing without masks on."
One choir group that has been known for their duo dances has been dramatically changed. Take Two is not allowed to do partner dances this year.
"We are dancing in pairs though, still being distanced and staggered as much as possible," McNutt said.
One of the things last year's students did not get to do was have an end of the year performance. Everything these musicians do prepares them for a big concert called Band-O-Rama. Hollis was very emotional when he found out that there was no Band-O-Rama, it is one of the things he looks most forward to at the end of the year.
"When Mr. Hollis and I started meeting over the summer, we both said, we have to perform," Hollingsworth said. "Whatever shape that takes, if that's live stream, if that's socially distanced, whatever form that takes we are going to perform."
About the Contributor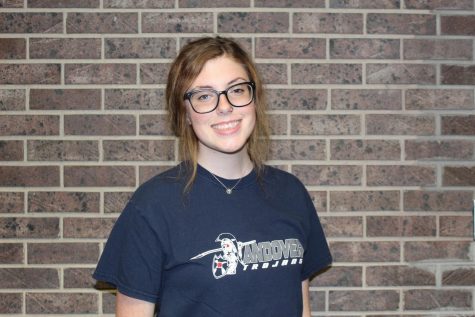 Emma Stueven, Reporter
Junior Emma Stueven is a second year reporter on The Oriole. Stueven is determined and wants to make the most out of her high school years. Outside of...