CNA classes shift due to Covid-19
Due to the COVID-19 outbreak, students in the Certified Nursing Assistant (CNA) course will not be allowed to go to clinicals, a series of supervised interactions with patients in local healthcare facilities, because of the lockdowns in retirement homes. 
2020 graduate, Cheyenne Pohlman, participated in the course in the Fall of 2019 and believes having the clinicals in lockdowns is a disadvantage to students who are working toward the certification this semester because they will not get the hands-on, in-person experiences only available during clinicals.
"Getting into the clinicals was one of the best experiences for us," Pohlman said. "It gave us the opportunity to help real people in real situations instead of being in a classroom. Not having that kind of experience because of the lockdowns can majorly affect how they perform in the medical field in the future."
Although the clinical lockdowns are not controlled by Butler Community College or the instructors, Pohlman believes instructors should try to get the students in the course as much knowledge and hands-on training as possible. 
"If I hadn't had any hands-on training, I don't think I would have been able to grasp onto any of the learning going on in that class," Pohlman said. "Hands-on learning helped me remember what to do and also gave me a chance to learn by myself. Seeing an instructor take blood pressure, for example, it was a little hard to understand until I did it."
The CNA course lasts for the fall semester and requires a certain amount of hours doing clinicals. Even though clinics are in lockdown, that has not stopped the college to give the learning time to the students. Junior Zoë Sullivan is preparing to become a CNA by enrolling in the course even with the minor setback from COVID-19, which instructor Tammy Green plans to help students along the way. 
"Just because there is currently a pandemic doesn't mean I'm not going to get my education properly," Sullivan said. "I am so thankful to have Tammy there since she has worked as a CNA for a long time. Even with the pandemic, she has us learning in our textbooks and still gets us to do as much hands-on as possible."
Sullivan feels that although the class does not get to have the experience in the clinicals, the students are learning how to cope in situations that do not go according to plan. 
"Yes, it is a little unusual not having that time with actual people, but we are still able to go to the campus on the upcoming weekends to practice some hands-on activities," Sullivan said.
Practicing to become a CNA in high school is very difficult according to junior Dominick Rios. Rios plans to use the class to see if he is 100 percent sure he wants to enter the medical field after high school. With lockdown, Rios feels he is missing out on good experiences that could change his perspective. 
"Not being able to actually go into the clinicals to see if I like working in the medical field is very weird and does not give me the opportunity to fully experience being in that position," Rios said. 
Rios feels that not just him, but the whole class is getting a piece of valuable information taken from them.
"I'm not saying that the class is bad or anything, it just feels like we are missing out greatly," Rios said. "It is nice to know that our instructor is doing all she can to give us the experience and time we need even if it isn't in clinicals. The college and instructors are giving the class the best that they can in these uncertain times."
Although with all of the setbacks for the fall semester, Rios plans to keep his head up and to focus on his education and perform the best he can in school.
"Even with COVID-19 going on, it is just showing me how we can try to do the best that we can in unexpected downfalls," Rios said. "It may be hard sometimes in this course, but I believe that if I have a positive mindset then I can achieve my goals in the class. It will be interesting to see how this all plans out by the end of the semester."
About the Contributor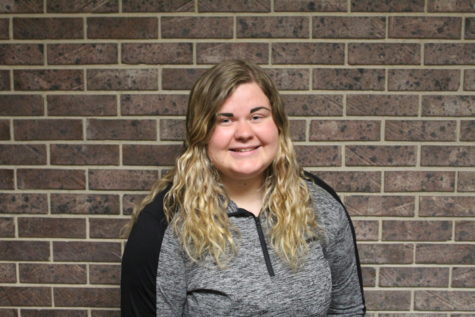 Savannah McMichael, Co-Editor
Senior Savannah McMichael is a third year reporter and first year Co-Editor on The Oriole staff. McMichael is a very enthusiastic person who tries to...