Senior project canceled due to COVID-19
Seniors are not participating in senior projects. 
Due to COVID-19, the senior English teachers felt as if the semester was too uncertain and with all the restrictions the school. Too many people would be in the building causing unsafe conditions.
At the beginning of a usual English comp semester, seniors start brainstorming ideas of what to do their projects over. However, this year's seniors either did not know the senior project was canceled while others had significant feelings about it.
"I'm sad because I was excited to learn new things, and that I don't get to do what I was wanting to do for the project [swing dancing]," senior Abby Laing said.
Other seniors were glad they do not have to participate because past seniors have mentioned the overload of stress it causes at the end of the semester. It is a pass or fail situation and if students bomb the project, they have to retake the class.
"I feel happy about it; it's one less big project that I don't have to worry about being stressed over," senior Brendan Parker said.
By speaking with a mentor, writing multiple papers and presenting the timed projects, most students feel accomplished and gain confidence through the process. Even though it will not be the same, all seniors are still required to write a research paper without the project and presentation at the end of the semester.
"It is a big project with a lot of detail and tasks to accomplish," Timberlake said.  
The current project was created in 2013, but before this, the English teachers experimented with similar projects to figure out one that best fit what they wanted from the students. It originally started with partners, but the current one is completed individually.
"We had a senior project that involved a partner which sounded great to students but became really complicated because one student would end up doing more or most of the work," English teacher Becky Timberlake said.
About the Contributor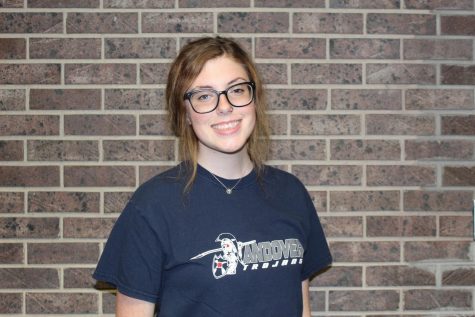 Emma Stueven, Reporter
Junior Emma Stueven is a second year reporter on The Oriole. Stueven is determined and wants to make the most out of her high school years. Outside of...