Oriolettes thrive at State Dance Competition
Through many hardships, the Oriolettes competed in the State Dance Competition at Olathe South High School while also enjoying the time they had with their teammates.
Some of the adversity they faced was due to Mother Nature's timing.
The state competition was scheduled to begin Friday, Jan. 18 and end the following day. However, because the roads iced over and outdoor conditions became hazardous, the competition date was rescheduled to Sunday, Jan. 20 and the following Monday.
"[The dance competition] was moved back because of the weather," Jandalyn Coman (12) said. "So, it kind of mixed up the schedule a little bit about when our performances are. Even though it made us get home a little late, it was still fun."
Other downsides of the trip to Kansas City were not particularly oriented around the competition.
"We were supposed to go to the Cheesecake Factory, but that never happened. I was sad, but it's fine," Coman said.
A final drawback for the weekend included the Sunday night football game.
"We danced really well, so honestly, the only bad part about this weekend was that the Chiefs lost to the Patriots," Alexis Semisch (10) said.
Although the difficulties may seem as if their weekend was ruined, the dancers overall enjoyed spending time with each other and doing what they love most – dance.
"I think that it is about all teams coming together to share what they've been working so hard for and just bond with everybody there about something that they love," Coman said.
The Oriolettes displayed a total of 12 performances. Seven of the performances were solos (Kenzie Childers (11), Maddie Ray (11), Katie Rockers (12), Ashley Prentice (12), Hailey LaPlant (12), Karen Castillo (12) and Aubrey Stueven (12)).
Childers and Ray performed a duet together as well.
The seniors danced together, and their performance was called a medium ensemble.
It was up to the individual dancers to volunteer and decide whether or not they wanted to perform outside of the whole-team routines.
As for the remaining three performances, the whole team performed jazz, Pom and hip-hop routines.
Each performance was judged.
"We got judged based on how you do overall as a team and little things like technique, precision and facials," Semisch said. "At the end, we get a score sheet basically telling us what we need to work on."
After each performance had been completed and judged, the teams found out what they had been awarded.
"We got a sweepstakes trophy, cleanliness for our Pom routine, and some award because we had awesome facials," Coman said.
Dance sponsor Kristie Haskell also awarded each team member for other traits besides dancing abilities.
"Everyone got awards from Kristie describing their personality and just fun little awards. She would read them out loud, then we all would guess who it was for," Semisch said.
Ashley Prentice (12) was awarded the "Biggest Oriole Fan" award, as well as the "Most Likely to Crack a 'Your Mom' Joke" from Haskell.
Grace Stueven (9) was awarded the "Quiet, Yet Sassy on the Dance Floor" by Haskell.
Because the dance team is so close, neither of the awards were difficult to guess who they were intended for.
Being exposed to different varieties of other dance teams was not only beneficial for the Oriolettes, but some also enjoyed watching them.
"When we get to travel and get away, we see other schools' dance teams and some of them are super good," Bailey Chinn (11) said. "It's pretty fun watching teams dance who are that talented."
About the Contributor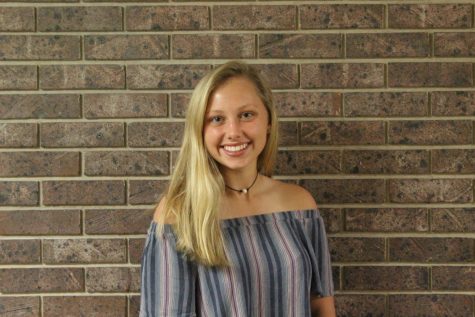 Bailey Pennycuff, Editor-in-Chief
Editor-in-Chief Bailey Pennycuff (12) has been a part of The Oriole staff since second semester of her freshman year. She has come a long way from where...