Popular Christmas tradition changes in high school
Bright red hats, all-seeing eyes, goofy names, fun gifts, imaginative hiding places. Many families enjoy unforgettable traditions around Christmas time, including the Elf on the Shelf tradition. Students who grew up with this tradition understood the elf was supposedly watching them and reporting back to Santa. Now, those same students are high schoolers are helping to continue the tradition for their siblings.
"My favorite part is just the hiding of it because you can hide it in crazy spots," sophomore Elisa Stubby said. "You can get as creative as you want. It can hold stuff and hang upside down. I think it's a lot of fun."
Since she was about six years old, junior Porsha Zwifel has had an Elf on the Shelf and now is in charge of moving it for her little brother.
"I'm the oldest, so I move the elf around," Zwifel said. "The first night I put 'I'm Back' in M&Ms, of course he ate them, and then I put it in a stocking."
Junior Justin Houser developed the tradition recently for his younger sister to enjoy.
"His name is Elvis, like Elvis Presley," Houser said. "When she goes off to school, we move it to a different location around the house. We'll put it on top of bookcases, inside pots and pans, fun little locations."
Older siblings have the job of finding the most exciting and fun places for their elf to hide.
"We taped him to the lid of the seat of the toilet," Houser said. "It looked like he was sitting on the toilet."
Traditionally, the elf is supposed to bring gifts back from the north pole for the children to enjoy; however, some older siblings missed out on that aspect of the tradition.
"I never got gifts; my brother gets gifts," junior Jensen Ervin said. "We usually just go to the dollar store and get some random gifts, except the last day he gets a big one from Walmart. Last year, I think his big gift was a Nerf gun and the smaller gifts were toys. Some of those fake gun poppers, darts, cards, swords and stuff like that."
Stubby used the opportunity to scare her parents while also informing them that she no longer believed the elf was real.
"In the beginning, only my parents hid it, but this year, I started hiding it for my sister in different places," Stubby said. "I put it on the ceiling fan, and then my sister showed it to my mom. She looked confused and looked at my dad and then pointed at me, and I was just like, 'maybe'."
Every morning, the family's elf is discovered in a new place around the house.
"It's hidden on our bookshelf, by our TV, and by this buffet we have that is covered with nutcrackers," freshman Mariah Shepard said. "It winked at me one time, or at least it looked like it; it was freaky."
According to the book, The Elf On The Shelf: A Christmas Tradition, which accompanies each elf, he or she leaves at night to report back to Santa and hides in a new spot for the child to find in the morning.
"I move it more often, and I am not boring like my parents, so I'll put it in the most random places to scare people," Stubby said. "I started hiding it like seven times. She was in the oven, the microwave, and now she's in the mixer. I don't know what happened; she's just making cookies or something."
Due to COVID-19, some families have become more creative with their elf's normal hiding places by incorporating corona restrictions.
"This year, we put him in a mason jar for quarantine," Ervin said. "We hung him from the ceiling, put him in cabinets and we put him with a wine bottle and a wine glass, and the bottle was empty and the glass was full."
When an Elf on the Shelf appears for the first time at a family's house, it can be a memorable moment, especially in Stubby's case.
"The first time she came out, there were sprinkles spilled everywhere. All over the counter, all over the table, and it's because my elf made a mess by accident with all the sprinkles. My dad was very delighted with that story. I was like, 'Girl, that's a lot of sprinkles you just wasted there'."
The Elf on the Shelf tradition gives teenagers the chance to come up with creative ideas for their siblings enjoyment.
"I'm going to hide it in places that it's not usually," Stubby said. "It's usually in the kitchen or living room because that's where everybody is, and I'm going to hide it in my sister's bedroom underneath her pillow, or my parents bathroom opening up the medicine cabinet."
About the Contributor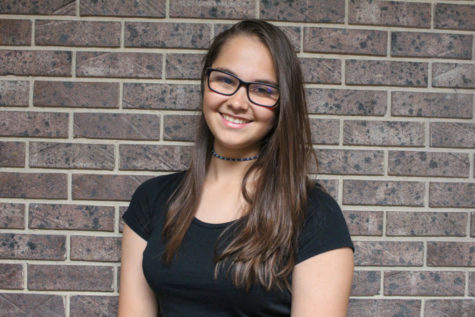 Savannah Athy-Sedbrook, Editor-in-Chief
Senior Savannah Athy-Sedbrook is a fourth-year reporter for The Oriole. She can often be found running around during ace to complete stories, as well as...