Therapy dogs improve the environment
Soft Coated Wheaten Terriers are native to Ireland, along with four other terrier breeds. They were for 200 years, an all-purpose farm dog who would herd, watch and guard livestock, and hunted vermin. Another fun fact: we have two that regularly visit.
"We enjoy making people smile, making them laugh, helping them relax, and making their day better," owner Deb Holderman said. "This is our third year, we do several schools in Wichita, Adams Elementary and Northwest High School."
Working as a school volunteer, Holderman brings her two certified therapy dogs Jeni and Jadon to the school a couple of times a week to help students who may be struggling with stress, anxiety, or are just having a rough day.
"With schools in particular, they help destress students," Holderman said.  "You can see it on their faces when somebody comes around the corner…with a concentrated look and all of a sudden they see the dog and their face just lights up, even if they don't come over and touch them, the contents on their face changes."
Students enjoy having dogs around the school so they can take a minute or two to sit down and spend time with them.
"They make people happy, you get to pet them, she has her little bow and tutu," junior Abby Laing said. "She had one of the dogs pretend to pee on me; it was weird, I thought they were actually going to."
Students tend to gravitate toward the dogs for a lot of the same reasons.
"I like them, they're cute," sophomore Marlee Crump said. "Every time I see them, they just make me more happy, and they're soft, so I like to pet them."
Among others, the staff finds these calming dogs a pleasant presence. 
"It's nice to have therapy dogs around: they calm, their presence, and I think it's great that they're here at our school," Counselor Jennie Lary said. "It's like a secret helper, the teachers don't really know that they're getting the help they need. I would be fine with having one every day."
There is just as much excitement when teachers see the dogs.
"We get as many teachers and staff members that want to pet her," Holderman said. 
Teachers are put under stress just as the students are, and these dogs can be just as beneficial.
"It was pretty stressful in here last week with schedule changes, so it was nice. The dogs did actually cheer me up," Lary said. "Just having the dog come in and show us how it can do a handstand or hike its leg on people, calmed me and Harmony down and made us laugh so I can see how it would help a student."
Having therapy dogs has many perks, even for the teachers and staff. This is especially true for the counselor.
 "I know Mrs. Hamblin last year would bring her Golden Retriever," Lary said. "I would watch that dog and it would go to kids that were having a really rough time, and lay on them. It'd make their day."
As with every dog, each has its own personality.
"The boys are attracted to Jadon," Holderman said. "He's a cocky thing, and the guys really like him. He just has an aura around him, you look at him and you just start laughing. She [Jeni] is prim and proper, he's [Jadon]  comical, you can't help but laugh."
Holderman acknowledges what Jadon and Jeni give students a way to let out their feelings rather than taking more violent means.
"When I know they need to talk to her, I'll say 'I'll get a drink of water, feel free to tell Jeni anything you want to' and I'll walk away and let them love on her," Houlderman said. "I don't want this to be another Parkland or another Colinby…and if they can tell her that, and they can share those emotions, and they can love on her, then we will never be another Parkland."
Houlderman continues to improve the environment at school every time she visits.
"People will say 'why do you bring your dogs here,'" Holderman said, "and I say 'why not?'"
About the Contributor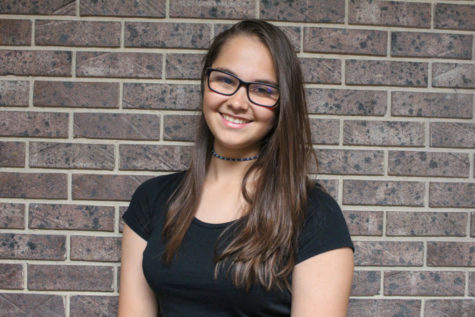 Savannah Athy-Sedbrook, Editor-in-Chief
Senior Savannah Athy-Sedbrook is a fourth-year reporter for The Oriole. She can often be found running around during ace to complete stories, as well as...