School welcomes 2 foreign exchange students from Europe
After traveling more than 5,000 miles, two foreign exchange students experienced their first day of American high school Aug. 19.
Junior Francesco Latte is from Italy and senior Albert Kříž is from the Czech Republic. 
Along with different countries comes different cultures. In America, students expect numerous classes per day with time in between to visit with their peers.  
"I enjoy them, but some of them are very difficult for me," Kříž said.
Kříž and Latte have a different school experience in their native countries. They stay in the same classroom with the same people for an entire school day, with many lessons combined.
"In Italy, you stay in your class for all subjects," Latte said.
 The school was not the only major change for them, the food culture is very different. Kříž eats different food for breakfast in the Czech Republic.
 "We usually eat Czech bread with ham and cheese. We drink with that black tea with honey and lemon juice in it," said Kříž. 
 Latte was not fond of American pasta, especially spaghetti. 
"When first trying the school's spaghetti, it was like a punch in the face," Kříž said. 
Latte had joked with him at their shared host family's home one day. 
Both of the students agreed America had much bigger portions for meals and a lot of unhealthy food options. Where both students are from, eating with their family is very important no matter the member's schedule. They find a way to eat family dinner together. In their perspective, meals in America,  are like a free for all. 
"We have breakfast, lunch or dinner together in my family but in America, we don't," Latte said.
Both admitted to struggling with their English, but overall, they are both performing well in school.
 "[Francesco's] Spanish in the class appears to be better than his English," Spanish teacher Frank Espinoza said. 
Since native English speakers are comfortable with the language, they tend to talk quickly which complicates things for non-native speakers. 
"Sometimes, you take it for granted how quickly you speak," Espinoza said. 
Both students made a sacrifice to be here. Not only did they leave their families to completely submerge themselves in a different culture; the year they spend here does not count towards Kříž's graduation.
"I am here for the experience; if I wanted this year to count I would have to take extra exams," Kříž said.
About the Contributor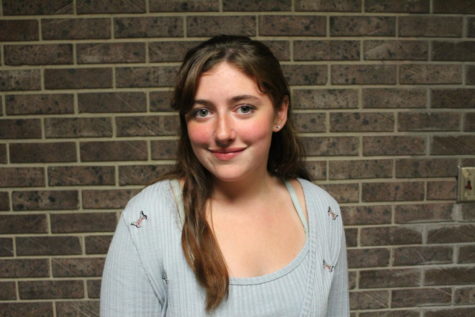 Haley Jeter, Reporter
Senior, Haley Jeter is a second-year staff member. The two main activities that take up her time are education and Colorguard (the visual aspect of the...