Ukraine elects Comedian for President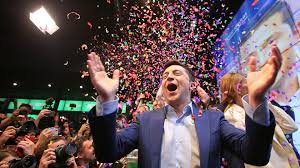 The Ukraine public elected Volodymyr Zelensky to be their sixth president April 29.
Zelensky, who won in what CNN described as a protest vote, won 30.24 percent of the vote in the first round and 73 percent in the second round, which is about 13,438,410 votes, has no experience being a politician while the incumbent President Petro Poroshenko, who got 24 percent of the vote, has been president for nearly five years.
Google defined a protest vote as a vote cast in an election to demonstrate dissatisfaction with the choice of candidates or the current political system.
President.gov.ua said "The President of Ukraine elected by the citizens of Ukraine. The president, who is also the Ukrainian head of state represents the nation in international relations, administers the foreign political activity of the state, conducts negotiations and concludes international treaties."
"He has a lot of expectations upon his shoulders," Justin Sage (10) said. "He probably has more than a politician would. He has to learn how to do the things that a standard politician already knows."
Zelensky was born Jan. 25, 1978 in Kryvyi Rih, Ukrainian SSR, to Jewish parents. His father, Olexander Zelensky, is a professor who heads an academic department of cybernetics and computing hardware at the Kryvyi Rih Institute of Economics while his mother, Rimma Zelenskaya, worked as an engineer.
He has a strong family history of hard workers, but he himself does not. He may have a law degree, but that doesn't mean that he will be a good president," Jayden Shumaker (9) said.
Aljazeera.com reported that Volodymyr Zelensky earned a law degree from the Kryvyi Rih Institute of Economics but has not worked professionally in the legal field, even though he spent three years to earn it.
The recent president, Petro Poroshenko, has been Ukraine's president since June 7, 2014. He only served one term after his loss in round two of the elections. Nationalinterest.org states that the president is directly elected by the citizens of Ukraine for a five-year term of office (whether the presidential election is early or scheduled), limited to two terms consecutively.
The Chicago Tribune asserts that a comedian whose only political experience consists of playing a president on the television series Servant of the People won in a huge landslide victory in Ukraine's presidential election in what was seen as a reaction against the country's entrenched corruption and low standard of living.
"It's funny, no pun intended, that Ukraine would elect a comedian for president, knowing that he has no political background," Will Bullinger (10) said. "More comedians might start running for president after seeing his success."
About the Contributor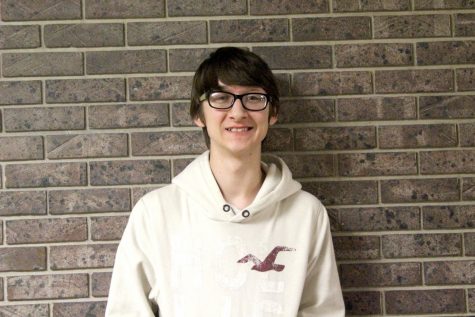 Jonathan Doss, Reporter
Jonathan Doss (10), a first year member of the 2018-19 Newspaper staff, enjoys writing stories about the here and the now at AHS. His enjoyment for reading...