Spring play brings Poe to life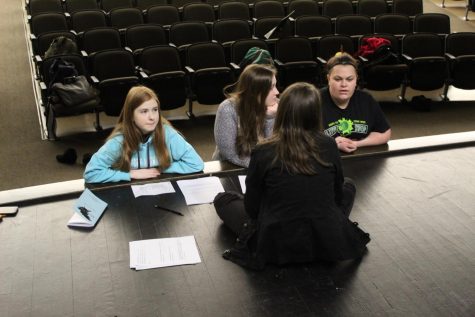 The spring play, which will be performed April 5-6, it will be a drama called "Tell Tale," explaining the life of Edgar Allan Poe. It will be performed April 5-6. The play also consists of one 15 minute intermission and two short stories "Tell-Tale Heart" and "The Fall of the House of Usher," Drama teacher Tim Laner spent all of winter break figuring out the play he wanted to produce this spring.
"After reading 20 plays over Christmas break, this is the one that popped out at me," Laner said. "I knew I wanted to do a drama and 'Tell Tale' had multiple characters," Laner said.
The play will start with Poe in his hospital room. The set crew will have various settings and movable props that go off and on the stage.
"We're not going to have huge set pieces or set moves," Laner said.
Laner and English teacher Jason Newman want the set to be as simple as it can be with smaller props and sets for the crew.
"With having small props and sets, it will be easier for the crew and the actors, and it will be easier to put together," Laner said.
Rehearsals for the play started after school Feb. 4, Monday through Thursday.
"Towards the performance date the rehearsals will end later in the night instead of early," Laner said.
Students join the play for many reasons, but Noah Rye (10) is passionate about acting. He auditioned to be either old Poe or young Poe.
"[I want to be] either the younger Poe or the older one but, either one I'm okay with," Rye said.
The cast for the spring play was announced Feb. 1 and Rye is playing the role of younger Poe.
The environment the students and teachers put the actors can be difficult and fun. Rye enjoys being around the people and being on the stage.
"It surrounds me with people that I feel happiest with, makes me more open about myself and helped me grow more confident," Rye said.
Some Students and teachers enjoy listening or reading Poe. The drama Poe brings to his writing speaks to people in more ways than none, including tension, horror and curiosity.
"I've always been interested in horror/drama, and the idea of terror," Rye said.