Transferring schools positively affects senior
After four years, the day that I have been waiting for is here; graduation is just around the corner. When I was told my eighth-grade year high school would fly by, I did not believe a single one of them. Now, I am here collecting my cap and gown, at a new school, and with new friends; 14-year-old me would not believe where I am now. 
The summer before my senior year, I decided to move, not thinking how difficult it would be to move schools my senior year. I went to Rose Hill my whole life; that is where all my friends were, and where all my memories were. I still decided I needed a change, so at the beginning of my senior year I started attending Augusta High School. 
I came with some experience with broadcast journalism, so I joined the broadcast class right away and soon joined newspaper as well. Julie Barker, the newspaper advisor, and everyone on staff made me feel so welcome right away. It was such a relief, and I was so thankful for all of them. I have learned so much this year because of these people and these classes, when times were rough they made me smile and laugh, and I will always remember every single one of them.
This year I also decided to join basketball, and after talking to coach Rainey Maloy about it, I was on the team. It was difficult since everyone had been playing with each other for so long, but I am glad I joined. My favorite memory was when we had a lock-in. We all slept in the gym, and it was a big bonding experience. The part that sticks out the most was the seniors, Avery Williams, Aspen Peterson, Kinleigh Haskell, and I got masks and were hiding while we did a manhunt. We scared some of the underclassmen and got a good laugh out of it. 
While my senior year has been fun, if I were to say I never once thought about what it would be like if I had never transferred, I would be lying. There have been times when I would think about how I am graduating with people I have only known for a year, some of which I do not even know their names. Even though I have had those thoughts, ultimately, I do not regret my decision. Without the move, I would have missed out on so much. Newspaper, broadcast, basketball, I would have never met all these new people and learned all these new things. Even if the year did get difficult at some points, if I had the chance, I would do it all over again. 
Now that my years are done, I am off to Butler Community College to earn a degree in social work. 
Thank you Augusta High School for helping me accept that change is not always bad, and helping me grow into who I am now.
About the Contributor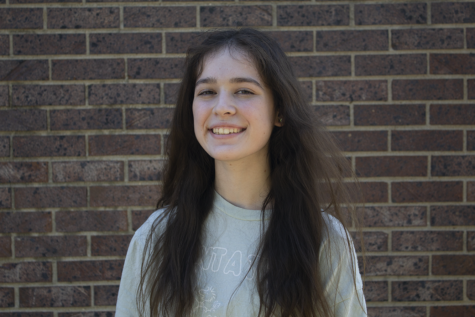 Alex Quezada, Reporter
Senior Alex Quezada is a first-year reporter on the Oriole staff. She enjoys spending time with her friends, going horseback riding and ice skating at...