Lack of windows change students moods
As some students finish up assignments and listen to the teacher, other students sit in fluorescently lit classrooms without a way to watch the sun and seasons. Most classes do not have any source of sunlight or way to look outdoors which affects the way students learn.
Psychotherapist Jo Baker's article "The role of sunlight in your wellbeing" supports that sunlight helps students learn better.
Librarian Casey Penner stays in the library almost all school day, she has personally dealt with many consequences of not getting enough sun as well as seeing the effects on students in her old classroom.
"Students' mood and my mood are greatly impacted by sunlight, and not having sunlight, especially in the winter months," Penner said. "When we leave, the sun's setting, so it makes it difficult to stay happy over time."
Multiple students and teachers agree being in sunlight and watching seasons has helped mental health as well as their focus in classes.
"All the classrooms without windows have their bright lights on," freshman Skylee Keyser said. "It makes it so I  cannot concentrate, if they have a lot of lamps and other soft lights I genuinely get a lot more done." 
English teacher Megan Springs has many types of lighting around her room to combat the fluorescent lighting.
"I intentionally turn off most of the fluorescent [lights] because I've had a lot of kids over the years complain that they give them headaches, and I'm susceptible to that," Springs said. "I like the mood lighting. Even when I turn those on, I have the dimmers, which is basically tissue paper, but it just mutes the light a little bit."
Although students enjoy having the natural light in their classes, other teachers have seen the windows causing distractions to their learning. 
"Natural light is always a great thing to have, but it can also be a distraction with weather, kids are less likely to pay attention if they have windows to watch the snow, rain or any of that stuff," industrial technology teacher Cody Hager said. "Personally it doesn't really affect me because we're really only in this classroom five or 10 minutes for most classes."
Some students, like junior Alex Evans, use the windows to help them learn and get sunlight throughout the day.
"It gets really dark, and it's stuffy without windows, sometimes you just need some sunlight;  sunlight has been shown to improve cognitive function," Evans said.
Baker's article "The role of sunlight in your wellbeing" supports Evans' statement that sunlight improves cognitive function.
Teachers and students have their own way of getting lighting in classes but a few teachers have been interested in wanting new kinds of lighting such as lamps, fairy lights and even just the ability to dim their lights. 
"It hurts my eyes to look across the library because of the different fluorescent lights," Penner said. "I would love to have a lot more lamp light, but I don't have a way of providing that well, since all the outlets are under the shelves so there'll be cords everywhere. I know there's alternatives to the lights that could help, and I'd be willing to try them."
Even though some do not agree, multiple teachers and students like having sunlight to change emotions, improve learning and much more. 
"It's not right to be shut up all day in a room without windows, it's nice to see the sunshine," math teacher Jonathan Morgan said.
About the Contributor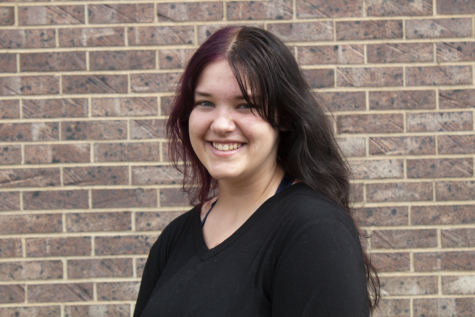 Emily Brinkley, Reporter
Freshman Emily Brinkley is a first-year reporter for The Oriole. When she is not at school, she likes reading books, working on colorguard and talking...