Teens overcome struggles of high school
From freshman year to senior year, high school offers a range of problems for students, from social issues to stress to trying even to fit in.
"Sophomore year is the most difficult. The classes are getting more difficult, teachers are getting more rough on you," sophomore Brady Green said. "There is less leeway when you are late to class, and they give more homework."
While sophomore year is the most difficult for Green, senior Dustin Scott disagrees.
"I think junior year is the most difficult," Scott said. "I loaded myself heavily with academics."
Academics were a struggle for some students, but others felt pressure from social interaction.
"Freshman year was the most difficult year socially," senior Keenan Cox said. "When I was starting, I felt overwhelmed. I was thinking, 'what am I going to do?'"
Freshman year is the most difficult for senior Sam Price because it could be strenuous for the upcoming students.
"Freshman year is the most difficult socially. You don't know anybody, there are just a lot of new faces," Price said.
Teachers see the transition in academic expectations from middle school to high school as an unexpected challenge for some freshmen, including world history teacher Rick Hess.
"When you're down at the middle school, you can flunk every class that you ever take and they still pass you on." Hess said. "Then you get up here and they don't do that in any class."
Teachers have also seen a decrease in student work ethic in recent years.
"Out of four world history classes, if I make one assignment to take home, I am lucky if I get 40 percent of everybody's back. You go through my grade book 0, 0, 0, 0, 0, 0, 0, 0," Hess said. 
"The school gives you 45 minutes every day to get stuff done. What do people do? Nothing."
Whether or not students have problems with work or mental issues, they can still get their work done using multiple methods.
"I put my work in a notebook, or notes in my phone, just something I can look at," Cox said.
Being active is how Scott thinks students can overcome social problems high school brings.
"Be active. Go out and do a sport that you haven't done before or go do a sport," Scott said. "Be active with the band, be active in the student section and just be active."
About the Contributor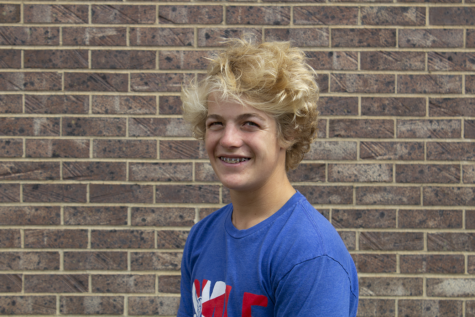 Dalton Pankratz, Reporter
Dalton Pankratz is a sophomore and a first-year reporter on The Oriole. Pankratz participates in three school sports: soccer, football and track. In his...