Cold rooms affect student learning
Trying to pay attention to the newest lesson in class, you cannot help but find yourself shivering, dreaming of a blanket to keep you warm.
Certain students have strongly expressed that the school seems to be quite cold, and junior Emma Thatcher stated she can never find herself warming up.
"I'm literally always cold in class; it feels like the heater has never been turned on in here," Thatcher said.
Students have also explained that the cold temperatures leave them not feeling the best.
"I really don't like being cold because my body starts to hurt, and I get tired and cranky," senior Adrian Walker said.
Then, there are others who do not care too much about the temperature in the building.
"I don't see the issue with it being cold to be honest; I would rather be cold than be sweating in class," senior Logan Martin said.
Students are constantly found asking "Why is it so cold in here?" It has become obvious that people have multiple different theories as to why it is so cold.
"I think it's so cold in there to make sure people wear appropriate clothing," freshman Santana Lichlyter said.
Some agree with this, as senior Grace Nance said the temperature inside the building has a larger impact on her outfit choice, even though it may be hot outside.
"It's probably to help enforce dress code because I always want to wear crop tops and stuff, but then I don't because I know it will be cold," Nance said.
Others believe the building is cold as a tactic to keep students on task.
"I bet it is cold to keep people from falling asleep in class," senior Jeff Hutchinson said.
Yet, other students disagree as they believe that the temperature does not influence if someone falls asleep.
"I think if you're tired enough, it's not going to matter how cold you are; you're just going to sleep," senior Emma Stueven said.
It has become a common occurrence for students to do homework in their bed, as sophomore Maddison Levings said.
"I would love to bring a blanket to school, because I'll be honest, I do my homework in my bed under a blanket every day, and I get so much more done when I'm comfortable, and freezing in class is not comfortable," Levings said.
Although all students would love to have blankets at the school for comfort, they understand the risks that come along with them.
"I do understand why the school doesn't allow us to bring blankets due to things like lice and sickness, so if they were to allow blankets again it would have to be something that they plan out pretty thoroughly," Stueven said.
At the end of the day, students do not enjoy how the cold learning environment affects their learning, and that something small like a blanket could help change that.
"Personally, trying to learn something while you are cold is just not ideal," Lichlyter said.
About the Writer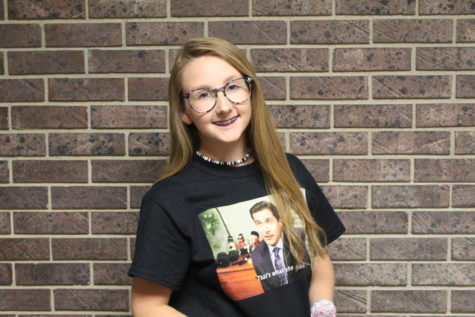 Maddie Smart, Co-Editor
Senior Maddie Smart is a third year reporter for the Oriole, and this is her first year as a Co-Editor. Outside of the newspaper room, Smart is involved...