Senior newspaper members reflect on high school years: Maddie Smart
As our childhood years come to an end and we prepare to leave everyone we have grown up with for college, every friendship, memory, stressful night of studying and most importantly every single laugh from the past four years start flooding through our minds.
Aug. 16, 2018, I stepped foot into AHS as a little freshman, without a clue what was going on or where half my classes were. From that day to right now, I shared so many laughs, had friends come and go, gained new skills, learned many lessons and had the time of my life.
The memories I have made during high school come from every place you could ever imagine, from hanging out in the counselor's office with my grandma, to cracking jokes in the newspaper lab to eating entirely too much food at fiestas in Spanish. During my time at AHS, I was a member of the cheerleading squad, concert choir, National Honor Society, Spanish Club, newspaper and the O's Zone.
It would truly be impossible to pick a favorite memory from all four years, but there has been nothing that I have loved more than having my grandma Barb Smart at the school with me. Walking into her office daily for a hug and a snack makes my days just that much better, and I am incredibly grateful to have such a loving grandmother who I get to see every day.
But, out of all of my years here, senior year was definitely the most memorable. A year full of "Building A Legacy", crowd surfing in the student section of football games, supporting each other and coming together as one big group. The post game tailgates and McDonald's trips will always be some of the best moments I have ever experienced.
As for my time in newspaper, there has been no other place that I have felt more comfortable in than the newspaper lab. This year, I took on the role of Co-Editor for the staff, which led me to learn so many new things and gain many new leadership skills. I am extremely grateful that my journalism adviser Julie Barker, Editor Savannah Athy-Sedbrook and all of my fellow staff members have trusted me throughout this process. I would not have made it through without all of their support, especially with freshman Rachel Womeldorff always keeping me on my toes. I will never forget the laughs, tears, inside jokes, parties, snacks, random and sometimes odd conversations and deep talks from the lab.
The newspaper lab truly changed my life, and after I walk out of that room for the last time, I will take with me every lesson learned, every memory made and every friendship gained.
Now, it is time to head off to my next adventure, where I will be attending the University of Oklahoma this fall to study Pre-Nursing, with a minor in Spanish.
Thank you Augusta High School for growing me into the person I am today. This Oriole is officially leaving the nest.
About the Writer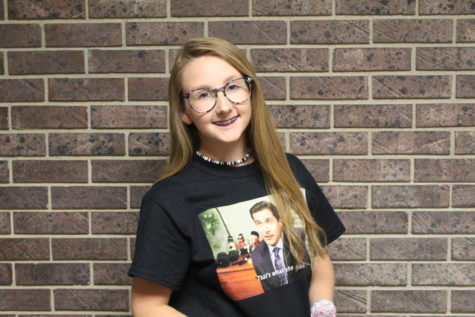 Maddie Smart, Co-Editor
Senior Maddie Smart is a third year reporter for the Oriole, and this is her first year as a Co-Editor. Outside of the newspaper room, Smart is involved...