One Semester Wonder
Long-term sub leaves Augusta for student teaching
"Next semester, I'll still be doing student teaching myself before I get my master's in education, and so this semester has definitely provided me more experience with managing a classroom as well as kind of taking ownership of a classroom myself." Long-term substitute teacher Connor Spellman said.
Spellman has been a long-term substitute for art for the fall semester. Since he has worked this semester basically as a full-time teacher, he feels he is prepared for his student teaching.
"I honestly feel like I'm kind of going into my student teaching, somewhat overqualified because a lot of people, when they go into student teaching, they've never managed a classroom or never stepped foot in a classroom outside of being a student," Spellman said. "I feel prepared for student teaching and actually being in charge of my own class."
After he finishes his student teaching and earns his degree and teaching license, Spellman plans on becoming a social studies teacher.
"I want to teach history but a social studies teacher is actually certified to teach geography, political science, economics, behavioral science, and then all the history classes that you would normally expect of a social studies teacher," Spellman said. "I'm more than willing and able to teach any of those. I enjoy all those subjects, but history would probably be my first choice."
Spellman does not have a specific plan of where he will find a full-time teaching position.
"My wife and I live on the westside of Wichita, and she teaches in the Maize school district. So ideally, I would probably get a job closer over there," Spellman said.
Spellman said he is not against the idea of teaching in Augusta if a position were to open up and the cards were to fall into place.
Spellman is leaving at the end of the semester, and one of his students, sophomore Alex Evans will miss him.
"I loved having him as a teacher, and I wish he could be here for the next semester as well," Evans said. 
Even though Spellman is planning to be a social studies teacher, he does not plan on forgetting about art.
"I've dabbled in art, specifically digital art. It became a recent hobby of mine. I don't plan on that ending anytime soon because I really enjoy it," Spellman said. "As far as actually teaching art, I would consider potentially becoming certified. I'd have to take the Praxis exam in order to get certified for art."
Spellman has some words of advice he wants to tell high school students.
"You don't need to go into college knowing exactly what you want to do. You don't need to graduate high school knowing exactly what you want to do," Spellman said. "Sometimes, it takes time to figure it out, and that's perfectly fine. It took me some time, but I'm happy where I'm at, and I really enjoyed the journey that I took in order to get here."
About the Contributor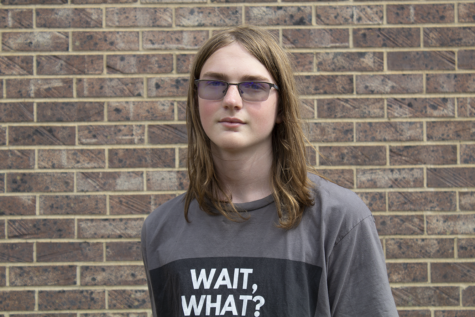 Justin Gwaltney, Editor-in-Chief
Junior Justin Gwaltney is The Oriole Editor-in-Chief. Gwaltney joined staff second semester of his freshman year. He enjoys playing 2nd bass drum for the...