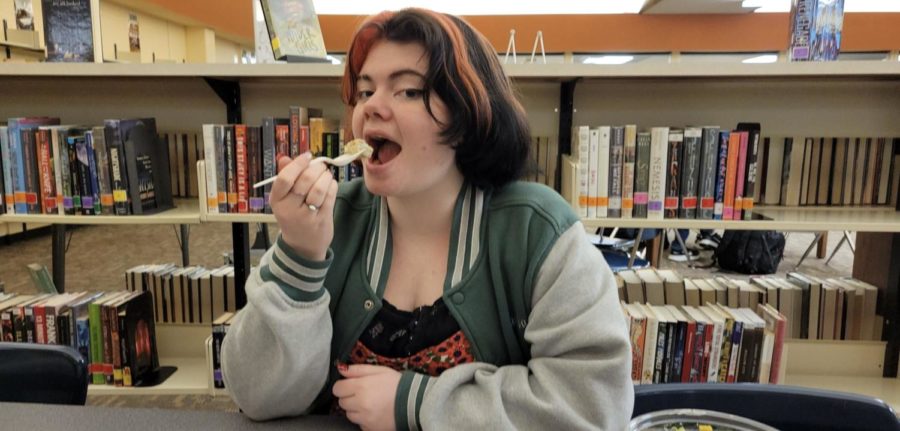 Photo courtesy of Alyssa McCalla
Food combinations create opinions
November 30, 2021
The sweet aroma of cinnamon traced through and down the hallway, cafeteria trays of the common Midwest lunch soon follows: chili and cinnamon rolls. This dish is controversial. 
"I think chili and cinnamon rolls is one of the best combinations ever. We have it at Halloween almost every year," senior Joseph Moore said. 
Food is not unknown. Humanity has eaten food since the dawn of time, but teenagers currently eat strange food combinations. Some of these combinations have become a normal practice in society.
"I think that where I draw the line of what food is strange, maybe like vastly different food groups," junior Alyssa McCalla said. "Like how macaroni and cheese is dairy, and then ketchup is like tomato, which is a vegetable." 
Some combinations are not as welcomed or wanted.
"Something that draws the line for me would be broccoli and cheese," freshman Sophe Rhodes said. "Most repulsive thing that I've ever seen. It looks like something a dog threw up."
Other students focus more on the presence of sweet and salty qualities in food combinations.
"I get two sweet foods together, perfectly fine. Two sweet and savory foods together," Rhodes said, "but two savory foods usually never ever work well together."
Strange food combinations can come from any different category, circumstance, with no rhyme or reason at all, students listed the welcome combinations.
"Oreos and mustard," McCalla said "I know it sounds awful, but I've tried before, and it's actually good." 
Snacks can have strange combinations but dinner foods offer their own combinations.
"Tuna and macaroni absolutely go together," Moore said. "Fry up some tuna patties and make some homemade mac and cheese," Moore said. "Ketchup, on the other hand, should be a war crime in 29 countries."
The classic debate of pineapple on pizza follows close behind the bandwagon of strange food combinations.
"If you like pineapple on pizza, you are an embarrassment to your family," Moore said.