Student breaks course record on way to state championship
On a course, cross country athletes run for miles. However, one athlete at the front manages to break a record.
Senior Sawyer Schmidt broke his fourth course record this year with a time of 5:18 and is on his way to win the state championship.
"I am not surprised, he is running really strong right now so it's good to see his hard work pay off." coach Steve Reichardt said. 
Schmidt worked very hard with cross country, and eventually ended up winning the state championship. With this accomplishment, Schmidt's coach isn't the only person that supports him.
"I know Sawyer practices a lot and has a good work ethic and never gives up," freshman Dawson Schmidt said. "If he wants to accomplish something he will, and I support him by being on the team." 
With Sawyer practicing a lot with his team, the varsity boys cross country team placed 3rd at state. With the addition of doing very well, a lot of people support Sawyer, which allows him to improve.
"My parents support me in everything and then the cross country team is always there supporting me and pushing me to work harder," Sawyer said. "I enjoy competing and running with the team since it is super fun to be around everyone."
Sawyer completes a 3 to 4 mile run during each one hour cross country practice, along with 2 to 3 hours practicing on his own. Reichardt feels Sawyer deserves all that he has earned.
"I can't think of a better person to deserve these records," Reichardt said. "He has gone through many things such as injuries, and he's worked so hard to achieve these goals. I am so proud of him." 
Sawyer has been running since a young age, and still plans on continuing to run.
"Back in fifth grade, there was a race that wasn't very far away, and I went out and ran well and got 3rd out of my age group," Sawyer said. "I found it fun, but when middle school came around, I started running more and just really fell in love with it."
Sawyer has earned both records and great memories running in cross country.
"My favorite memories are probably competing and just racing and traveling with the team," Sawyer said. "We have a poetry session during cross country. It's really fun when we just say poems while we run."
About the Writers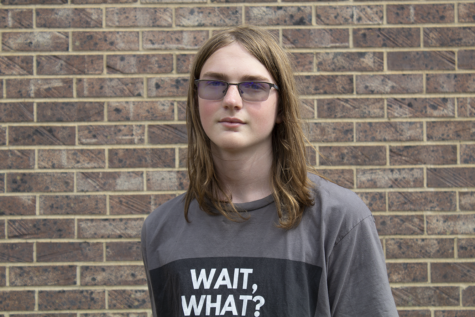 Justin Gwaltney, Editor-in-Chief
Junior Justin Gwaltney is The Oriole Editor-in-Chief. Gwaltney joined staff second semester of his freshman year. He enjoys playing 2nd bass drum for the...
TiAna Arnn, Reporter
Junior TiAna Arnn is a second-year reporter for The Oriole. She enjoys writing stories and finding out about different events throughout the school and...