Taylor Swift fights to gain rights over her old music
October 15, 2021
Award winning musical artist Taylor Swift fans discovered a new Tumblr post on her account on Nov. 14, 2019 slamming Big Machine Records CEO Scott Borchetta and Scooter Braun.
"Scott Borchetta and Scooter Braun have now said that I'm not allowed to perform my old songs on television because they claim that would be re-recording my music before I'm allowed to next year," Swift said on her Tumblr account @taylorswift.
Swift said Braun and Borchetta prevented her from using her old music. 
"Scott and Scooter have declined the use of my older music or performance footage for this project, even though there is no mention of either of them or Big Machine Records anywhere in the film," Swift said on Tumblr.
Big Machine then fired back in a statement on their website, saying what she had posted was not true.
"Taylor, the narrative you have created does not exist. All we ask is to have a direct and honest conversation," Big Machine Label Group said via bigmachinelabelgroup.com.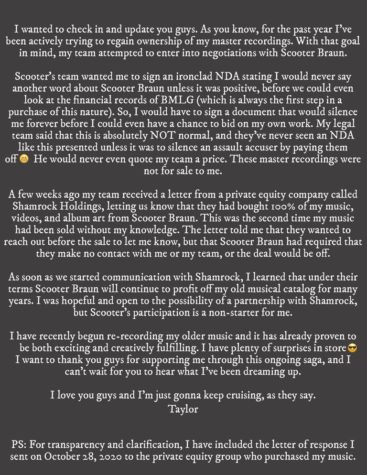 Later, on Nov. 16, 2020, Braun sold the master rights to Swift's first six albums for $300 million to an investment fund. Swift confirmed she was not affiliated with the investment fund, but she would be re-recording those albums.
'Fearless (Taylor's Version)', the first of the six albums to be re-recorded, which featured six bonus tracks from the vault in addition to the original songs, was released April 9, 2021 and found success among listeners. 
"I'm counting down the minutes till we can all jump into the brave world together, filled with equal parts nostalgia and brand newness,"  Swift said on Twitter.
The next of the six re-recorded albums is Swift's rendition of "Red" which is set to be released this fall.
"The next album that I'll be releasing is my version of Red, which will be out on Nov. 19," Swift said on Twitter. "This will be the first time you hear all 30 songs that were meant to go on Red, and hey, one of them is even ten minutes long."