Sophomore designs ball gown from past centuries
he sewing machine hums as she connects two pieces of fabric to form a skirt; her fingers move swiftly as the needle attaches delicate details to the corset; all her focus is aimed toward the lace she attempts to join to the rest of her creation.
"I really like ball gowns and dresses like that, and I've always thought they are so pretty," sophomore Lola Tuschhoff said. "I wanted one, so I decided I was going to make it."
During the past six months, Lola took on the task of designing a vintage ball gown for herself.
"I'm going for a really purple and vintage white lace with flowy, drapey sleeves and a really puffy skirt," Lola said. "I'm pretty close to done. The hardest part is making the corset, and I'm practically done with that."
On Pinterest, Lola kept a board with pictures representing the kind of gown she aimed to replicate.
"I've seen a lot of inspiration pictures, and so far what I've seen of the product, it looks really good. It's going to be really fancy, really pretty," sophomore Elisa Stubby said. "She really likes that style, and I've heard her say she wishes she was in that time era so she could wear stuff like that all the time."
Lola's friends and family have been emotional support through her frustrations and successes.
"I've witnessed her make the corset, and the process that she went through when she got stuck and then when she figured it out," Stubby said. "She figured it all out on her own, and she was doing a really good job, and the dress is going to be beautiful."
"
"I really like ball gowns and dresses like that, and I've always thought they are so pretty. I wanted one, so I decided I was going to make it."
— Sophomore Lola Tuschhoff
For Lola, the process of customizing the dress from scratch was tedious.
"I had to start off with a dress template and then customized it to my measurements," Lola said. "Then I cut it out and taped it together, cut out each frame piece and taped them together to make the corset shape. Once it was correct and fit, I cut it out of a white cut lining cloth to make a mock one. Then I started making the actual design, which is three whole layers of fabric and took ages to cut out."
Lola's mother, Wilena Tuschhoff, is one person supporting her.
"It's going to come out real big, kind of like Victorian style dresses," Wilena said. "She made one a few years ago that was kind of a viking style, which was really cool.'
Even when she was little, Lola experimented with different types of things, including fashion.
 "She's just really good about trying different things and finding out what she really likes," Wilena said. "So right now it's this style and then she'll probably go and do something different."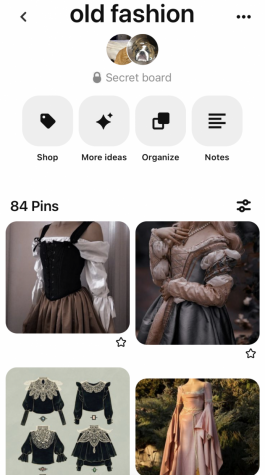 Lola and Wilena are both artists; however, their talents lay in different areas.
"Trying to inspire her inspires me more," Wilena said. "She's more creative than I am, so I sit down here with her, and I'm like 'Wow, that's really cool.' I can paint and stuff like that, but I can't sew, so I think it's more of her showing me new things." 
While Lola is the one sewing the dress itself, she still receives help with different parts of the creation.
"Helping her make a dress includes a whole bunch of sewing, I wouldn't be much help there," Stubby said. "But I've also helped give ideas and give my feedback on her work. I've been on a lot of FaceTime calls with her while she makes the dress."
Details on the gown, such as the sleeves give it a more modern look while still keeping the overall style of the era.
"I feel like it's going to be a really close representation to how dresses were in the 1800s," Stubby said. "Probably not exactly, because she'll add her own personal twist to it. It's going to be really pretty and flowy, but at the same time, have a modern twist to it since that's when she's making it."
Wilena is impressed by the progress Lola has made as well as the quality of the dress itself. 
"I think it's going to be beautiful," Wilena said. "It's going to be almost professional looking because of the way she does it. You could go to a party in it."
The most gratifying part of creating the dress for Lola has been seeing it almost completed.
"That will be the most rewarding part, when it's done," Lola said. "The corset so far is amazing. I love it."
Right now, Lola is taking a break from sewing her dress due to school work but will continue the process in the summer.
"As soon as she could hold the needle and understood the concept of sewing is when she started, so she's been doing it for a while," Wilena said. "If there's a day where she feels like sewing, it will be all day long. Like any artist, once you're in that mood, you can't stop. She's very motivated once she gets in her head what she wants to do."
About the Contributor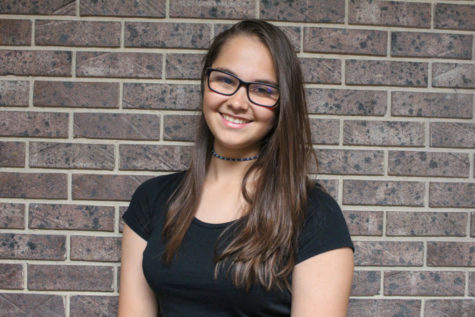 Savannah Athy-Sedbrook, Editor-in-Chief
Senior Savannah Athy-Sedbrook is a fourth-year reporter for The Oriole. She can often be found running around during ace to complete stories, as well as...