First Oriole girl qualifies, places at state wrestling
   Placing 5th in the 4A Girls State Wrestling Tournament, freshman Jill High made sports history Feb. 26 as the first female Oriole wrestler to qualify and place in the state wrestling tournament.
    For wrestlers, state is a goal most share. The whole season leads up to the event.
    "[State] was a goal of mine," High said.
             The chance to compete at state carries a considerable amount of pressure to do well, and the event can be nerve-wracking for the team's individual athletes. 
"I was so anxious that I ended up vomiting all day," High said.
 After wrestling in three matches, High faced her final opponent. Leading up to the match, High made friends with the team's managers who helped to calm her nerves. 
"I became friends with the managers of our team and they helped to calm my nerves. My first match was stopped because of an unusual call by the referee," High said.
 The unusual call was due to a wardrobe malfunction.
High wrestled four matches, the fourth being her final and deciding match of the tournament.
"The girl that I had to beat I had wrestled multiple times, so I kind of knew what to expect," High said.
Even though High was able to win, she noticed that her opponent had changed her approach. High said her last opponent was noticeably more aggressive than the previous matches they had wrestled together. 
High comes from a long line of wrestlers on her father's side. When her brother Jace High began his first season, she decided to try it as well. High said that she never really quit but never consciously was excited for the next wrestling season. 
This was the case at the beginning of the year's season. 
"I was not excited during the beginning of the season, but as time went on my teammates and coach made the season more enjoyable," High said.
The sport requires a person to be in top physical shape as well as skill and technique. 
It can be exhausting and mentally challenging for the participant.
"I think it's had both positive and negative effects on me, positive in a physical way but the intensity of the sport has had negative effects as well," High said.
Placing at state is rewarding not only for the wrestler but also for the wrestlers' family. High's family supports her wrestling career and encourages her.
"They were expecting [me to win]," High said. 
High said that when she heard the news about her placement, she was beyond excited.
About the Contributor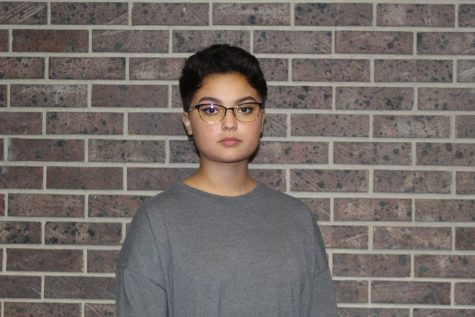 Claudia Stirewalt, Reporter
Claudia Stirewalt is a Sophomore. She loves to read and write. She spends her free time with her friends and family. More often than not, you can find...