Leaving it all on the mat: sophomore wins state championship
Shouts from the stands echo around the gym, cheerleaders chant from the front of the mat while the two in the center circle wrestle to be the best of the best: state champion.
"It's all just a big rush in my head, all of that adrenaline coming out," sophomore Marcus Terry said. "The first match I was going in confident and positive. I knew I had the best seat among my whole bracket, so I would wrestle the kid that got fourth at the other districts."
Marcus earned the title of state champion for the 106 lbs weight class, Feb. 27 at the state tournament in Salina.
"It felt good qualifying for state, but I knew I wasn't satisfied yet and that I had a lot more to do," Terry said. "A lot of the work that prepares me is offseason work and going to wrestling camps over the summer and working out every night and just having a specific routine." 
Terry knew he needed to pick a good practice partner to prepare for the season.
"They make you work for your moves, and they hold you accountable," Terry said. "If you wrestle someone that doesn't know what they're doing, or lets you do the moves sloppy, then you'll get used to doing it sloppy, and it'll carry over to a match." 
"
"It's all just a big rush in my head, all of that adrenaline coming out.""
— Sophomore Marcus Terry
Unlike other wrestlers, coach Brandon Terry is also Marcus's dad.
"We typically do our Sunday workouts and a couple of workouts throughout the summer during the week," Brandon said. "The other thing that Marcus did during the COVID, him and his brother got on this pull-up kick where they were doing pull-ups every night, and honestly, I think that helped him out a little bit as far as his strength goes."
Marcus's family members are all involved in the wrestling season.
"We're just a big wrestling family, so they understand everything in there," Marcus said. "They push me to be the best I can be. They cut back since I wasn't eating a lot; they couldn't buy junk food because they didn't think that was fair to eat in front of me. So they really sacrificed some of their time just to help me."
As supportive as his family is, according to Brandon, coaching his own son can have its rough patches.
"We butt heads quite a bit in the practice room and other places, and that's when I'm thankful to have good assistants that can help steer that in the right direction," Brandon said. "Although they're not your blood, all those other kids you're coaching are in a way like your sons as well, so in that aspect, it's not a ton different."
Marcus has been wrestling since he was five years old.
 "He's always been a good wrestler," Brandon said. "He won a couple state medals when he was younger, but you just never know when a kid's little, you just hope they like wrestling enough to continue on in high school."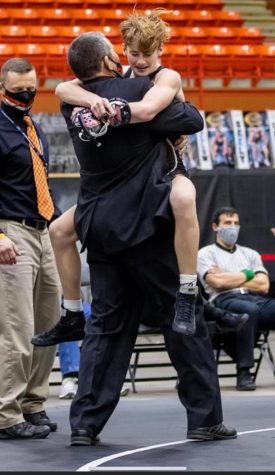 Marcus had four matches to wrestle during the weekend to determine if he placed and where.
"I wasn't really worried," Marcus said. "I just knew that I had to wrestle how I've always wrestled this whole year. My first match, once I beat him I knew that I instantly placed. Then my next match I beat him at sub-state the week before; I just had to wrestle smart. After that one, I knew I was going first and second, so I just had to leave it all out on the mat."
A picture the weekend includes Marcus excitedly running into Brandon's arms after winning his final match. 
"He just won the state championship and the excitement built," Brandon said. "There's a lot that goes into winning at that level, and as a result, the emotions are pretty high afterwards. The more you put into something the more meaningful it becomes."
Brandon believes what Marcus will gain as a person is more important than the medal itself.
"Marcus, he's ornery, but kind of my soft-hearted one at the same time," Brandon said. "I just hope that he continues to have a good work ethic and enjoys the process because, if you let the 'I'm a state champion' get to you, then things could get awful tough."
According to Marcus, when he won his concluding match of the weekend, many of his family's dreams were fulfilled.
"My dad's told me before that he's always dreamt of that moment," Marcus said. "Of me winning state and launching into his arms," Marcus said. "It's an amazing moment to know that all your hard work has just paid off."
About the Contributor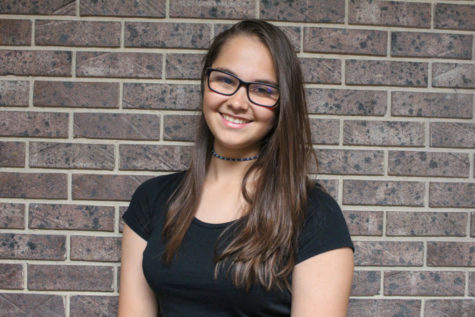 Savannah Athy-Sedbrook, Editor-in-Chief
Senior Savannah Athy-Sedbrook is a fourth-year reporter for The Oriole. She can often be found running around during ace to complete stories, as well as...