Gatorade: the key to uplifting others
Coach hands out Gatorades to the hype-teammate of the day
Shooting hoops, continuous running and non-stop teamwork is found in the Lady Oriole basketball team practices every day. Halfway through the season, coaches made a plan to nominate one hype-teammate per practice to receive a Glacier Cherry Gatorade. Junior Allie Timberlake received a Gatorade after her team and coaches agreed she had been a hard worker during practice.
"I have gotten a Gatorade once," Timberlake said. "Every week our coach, Rainey Maloy, buys a six-pack of Gatorade for the week and then gives one out every day. Having something like this with significance gives us another reason to work harder."  
Receiving a Gatorade after continuous running for Timberlake gave her a feeling of accomplishment and happiness. Timberlake felt that although the Gatorade itself had no meaning, it uplifted multiple teammates' spirits. 
"It can easily make someone's day a little better," Timberlake said. "The hype-teammate is someone who has proven they are a hard player and someone who does not give up during practice. This gave us a way to connect to everyone on each team too."
Just like Timberlake, sophomore Aspen Peterson received a Gatorade as well. Acknowledging players with Gatorade started halfway through the Lady Orioles season and so far has had good results for Peterson.
"When I got it, it boosted my confidence a little more," Peterson said. "Being a sophomore on the varsity team is always stressful, and you never want to mess up in fear of getting backlash. No matter what though, this year has shown that we all appreciate each other and their position on the team." 
Peterson wishes receiving a Gatorade would have happened sooner, but is glad it started. She believes it made the team connect more and hopes it will still be around next season. Senior Maycee Anderson liked having a new tradition her senior year to dedicate a hardworking player on her team.
"It was honestly really cool to do," Anderson said. "Getting a free Gatorade for playing the game that I love was super easy and made practice a little more fun. I wish we could've done this sooner though since it's my last year."
Anderson feels that although a Gatorade is a simple drink to receive, it still had good meaning to the players, and she saw a change in how hard the team worked. 
"Definitely, everyone began pushing themselves a little more," Anderson said.  "The Gatorade made everyone want it, even if we could go to the store and get one. However, nothing compares to you getting one from your coaches and team."
Gatorade: so random, yet so right for the Lady Orioles. A small drink that made an impact on the team and Anderson.
"This year felt different than the others," Anderson said. "Yes, we didn't always win, but even in those games, you can see our fight and passion. I'm going to miss playing with these girls, it was a fun season and hopefully this silly tradition doesn't die out."
About the Contributor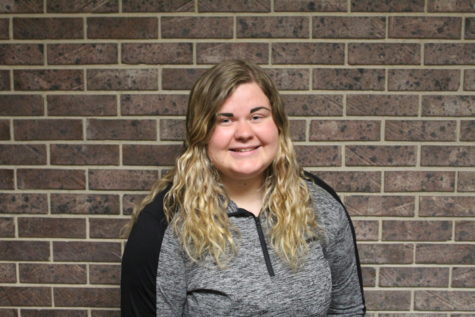 Savannah McMichael, Co-Editor
Senior Savannah McMichael is a third year reporter and first year Co-Editor on The Oriole staff. McMichael is a very enthusiastic person who tries to...