Winter homecoming makes for hectic week
Record-breaking freezing temperatures, a deadly pandemic and a burst water pipe in science teacher Joe Conner's room all on homecoming week made for a chaotic two days. Due to all the help from ServPro workers and staff the water within the school was cleaned up, the pipe was repaired and the snow in the parking lot was pushed to the side. School is back in session. 
Along with homecoming is spirit week, a time to dress up and have fun with peers. Spirit week was supposed to consist of: Disney Day, KU/KSU Day, Tie-Dye day and Pink Out Day. Due to freezing temperatures and the burst water pipe in Conner's room, school was cancelled Tuesday and Wednesday, meaning no Disney and KU/KSU Days. 
"I was pretty upset that school was cancelled on Tuesday; I really wanted to dress up for Disney day," junior Kallie Smith said. "I had the perfect outfit; I was going to wear my Snow White shirt with a red bow." 
The homecoming candidates are glad that the school gets to have homecoming. 
"I'm simply thankful for the fact that we get to have a homecoming this year. With fan restrictions, I was worried there wouldn't be one," senior Xander Roberts said. 
Roberts is also excited to play the Buhler Crusaders this Friday. 
"Getting to play with the boys is always the highlight of my week; I can't wait to face Buhler again," Roberts said. 
This Friday's game against El Dorado will be pink out. All donations will go to junior Morgan Livingston's mom, Kris Semisch. Donations can be made by purchasing a ticket for a 50/50 raffle that will take place Friday during halftime of the varsity boys basketball game. Semisch was diagnosed with breast cancer in 2020. 
"At a loss for words for this honor. Once family, always family!! Thank you and can't wait to spend this evening with you all," Semisch said in a tweet. 
Seniors Ely Wilcox and Maycee Anderson won winter homecoming king and queen Feb. 19. The 50/50 raffle raised $696 for Semisch. The winner of the 50/50 raffle, 7th grade science teacher Nathaniel Straub donated his winnings to Semisch as well.
About the Contributor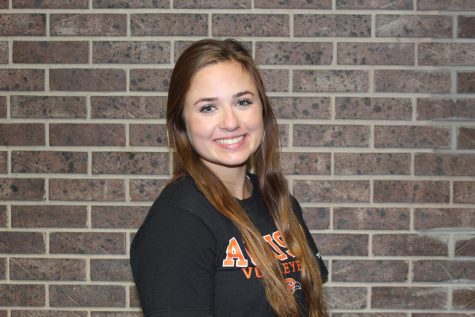 Ivory Rightnar, Reporter
Senior Ivory Rightnar is a reporter on The Oriole staff. She enjoys playing multiple sports (volleyball and softball) and cheering on her school's activities....