Orioles take Baldwin tournament title again
This basketball season the boys team has gained three new coaches and graduated two starting seniors from the roster, yet still managed to win their mid-season Baldwin Tournament. 
This tournament consisted of three games in one week, and with the team having to wear masks during the games, this was a hard-earned victory. The boys played Louisburg in the final match of the tournament and beat them with a score of 42-40.
"It was a challenge. We drove around 900 miles; it was very draining, so when we won it was very satisfying," varsity basketball coach Ryan Petty said. "The guys were disappointed about not being able to stay in the hotel with it being a tradition, but getting the win really made it worth it," Petty said.
Playing with a mask on can be difficult with a fast pace and physically demanding game. Preparation was necessary to get the players comfortable with wearing a mask for a prolonged period of time.
"We were supposed to keep it above our nose, but even when it wasn't, it was still very hard to breathe," player Brendan Parker said. "It was also very irritating with it being on your face while you're trying to play a game."
Staying in a hotel Friday night was a tradition for the basketball team during the Baldwin tournament, but this year, due to COVID-19, they were unable to stay in the hotel. This also can took a toll on the team having to drive two hours back home Friday night and driving two hours back to Baldwin Saturday morning. 
"You know the team chemistry we had this year wasn't as good just because we didn't get to stay in the hotel and really enjoy the time off there. Instead, we were in a transit," basketball player Ely Wilcox said. "We didn't get to play in our 2K Tournament, which was different, but I think we came together and made the best out of it."
With the basketball team winning their mid-season tournament, and checking a goal off their list, future goals are coming to light. 
"Playing our hardest every game and of course the Baldwin tournament was some of our goals this year, but the next one coming is we want to win the league, so it is going to be exciting going down the stretch," Petty said.
About the Contributor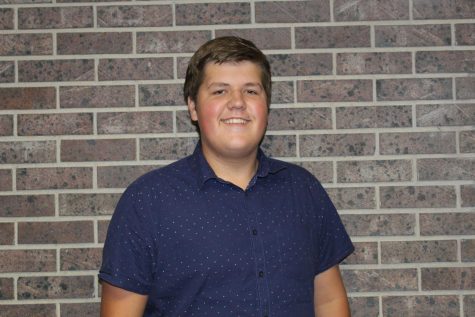 Chadd Brown, Reporter
Senior Chadd Brown is a third year reporter for The Oriole. He is determined to become a college athlete. You can see him getting quotes for story's and...