Social media platforms offers junior girls new opportunities
For most high school students, junior year is the hardest year; adding junior year on top of COVID-19 can make the year more stressful. Three junior girls have taken it upon themselves to start their own small businesses. These girls have had to overcome the work of junior year, their sports, and COVID-19 to continue their small businesses. Two of these businesses sell bracelets and necklaces, while the other sells cross stitch patterns and supplies that are needed to complete them. 
Maddie's Mix
 Junior Maddie Smart started Maddie's Mix July 2020. 
"I saw other girls on Instagram and other social media platforms selling their own things, and I thought that it was pretty cool," Smart said. "I then hollered at my mom, asked her to help me out, and then we got what I needed to start the business." 
Smart sells beaded jewelry consisting of bracelets and necklaces. She can make anywhere between $20 to $30 a month. During the month, Smart's schedule is pretty packed. 
"I make sure I have all of my homework done first, I go to cheer if I have it, and if I have extra time, I make the jewelry," Smart said. "I usually spend the weekends making the jewelry though." 
Smart promotes her business and sells her jewelry on Instagram @maddies.mix. 
Wired Beauty
 Junior Jolee Roberts started Wired Beauty two months ago. Wired Beauty consists of wired necklaces and bracelets. The bracelets consist of different stones and beads while the necklaces are made of wire. Roberts bends the wire into characters or names for people. 
"I am spending most nights making my necklaces," Roberts said. "To deal with stress I have a certain amount I do each night, so I don't overwhelm myself." 
Roberts started her business because she enjoys making jewelry, if anything making jewelry relaxes Roberts. 
 "I chose my business because I like to make jewelry," Roberts said. "I plan on using the money I make to help grow my business." 
Roberts promotes and sells through Facebook (@Jolee Roberts)  and Instagram (@Joleebug2022). 
Junior Kristina McCalla's cross stitch patterns
 McCalla started her business a little over a month ago and sells cross stitch patterns and the hoop that goes along with the pattern. This hoop holds the fabric and makes a nice border. 
"I mainly get the supplies for my business from Walmart and Hobby Lobby," McCalla said. 
McCalla's schedule is pretty lax and makes sure she puts school and color guard above her business. 
"The business is on my own time, so it's easy to handle," McCalla said. "The people who order first are the people who get things made first." 
McCalla promotes and sells through Instagram (@kristina_mccalla_2020), Snapchat (@kristinamccall), and Pinterest (@Kristina McCalla). 
These junior girls have never taken a business class and are teaching themselves what they need to know in order to make a profit from their small businesses. 
"I can benefit from my business because I have made many people happy with what they have bought and they can trust me to make them more jewelry," Smart said.
About the Contributor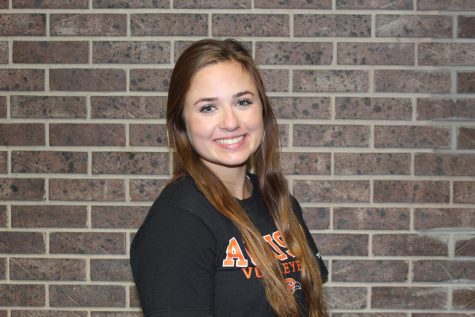 Ivory Rightnar, Reporter
Senior Ivory Rightnar is a reporter on The Oriole staff. She enjoys playing multiple sports (volleyball and softball) and cheering on her school's activities....