Paramotoring all around town
You step outside and look up to see a man flying through the sky with a machine that looks like a parachute. Augusta citizen Kevin William is well-known around town as The Kansas Paramotor Guy. William has a page on Facebook where he posts everything about his paramotoring experiences.
A paramotor is a motorized steerable paraglider, with a motor and propeller harnessed to one's back.
"In the simplest term, it is a motorized backpack, which straps to your back and acts as a type of seat to lift you into the air with a glider," William said.
The paramotor allows the operator to glide through the air up to as high as 18,000 feet. It takes quite a few steps before the glider can actually get in the air.
"The glider, which is also known as wings, inflates using the A-lines. As it inflates, the air/wind fills the cells and makes the glider a bit more rigged, but still floppy at the same time. This makes it so the glider can allow air under it and keep it inflated," William said.
The operator then must start running in order to elevate off the ground.
"Once it is in the air and steady, you start running while gradually applying power on the throttle and leaning back. That allows the glider to generate lift at a specific speed which then starts lifting the whole setup into the air. The built-in seat board then slides under you and forms a type of seat." William said.
Once the flight is complete and the operator is ready to come down, it takes concentration and the correct steps to land safely. There are two methods for landing, the first being the most common when one is required to cut the motor and get out of the seat once they have aligned their sights on the landing area. 
The second method is used when the winds are stronger or the operator is flying in worse thermal conditions. This is when the operator will line up their landing and keep the eyes fixated on where to land, then go idle which allows sinking. Once the glider is closer to the ground, the operator will variate the throttle to keep in a horizontal position with the ground.
"To land, you must be facing into the wind to land, so you aim towards the wind direction. You line yourself up and focus on an area you want to land on or around," William said. "The method of landing all depends on the type of glider you have due to there being reflex wings and beginner type wings, you can come in as fast as 30+ miles per hour or as slow as one mile per hour. It all ends with you slowing down enough to run, walk or just step it out when you land."
William was inspired by a YouTuber who was traveling to different places with his paramotor.
"About three years ago I started watching Tucker Gott on YouTube. He was flying a paramotor doing all sorts of crazy things like flying to McDonald's to go get a cheeseburger," William said.
It took William about a year to buy his own equipment after watching the YouTuber. Once he decided to start paramotoring, he bought what he needed and went through the proper training. 
"I bought it from a company called Blackhawk Paramotor out of California in July of 2018. I went to Durant, Oklahoma in August and trained with a company called Paramotor Flyers," William said. "My trainer, Shawn, spent about a week in the 107-degree temperatures learning how to kite and get a few tows, where they pull you into the air with a winch, and you learn how to land prior to strapping the motor to your back." 
The sport of paramotoring has become an enjoyable experience for him.
"I love being able to see, but at the same time being able to share my experience with others by supplying photos and videos of my perspective. Also being able to achieve the goal of flight by itself is amazing as it is," William said.
A major aspect of his flying experience has been sharing photos he captures on Facebook. 
"I take photos of anything that looks interesting or neat. Entire towns and photos as far as the eye can see are some of the best, including above the cloud photos, sunrises and sunsets," William said.
The pictures he takes are not only for everyone else to see, but so he can look back over them and see what he has experienced.
"The photos I take are mainly just to remember a type of snapshot that I can look at in the future when I am either not able to keep doing this sport or if I just want to look back and remember the good times in the sport," William said.
While most flights are always the same, he enjoys switching things up at times.
"I like flying as Santa every year and changing things up," William said.
He has hopes of being able to teach others how to fly as the years go on.
"Since this is a hobby and it is governed under FAR 103 [Federal Aviation Regulations for paramotors], I sadly cannot bring people up with me, but I am aiming to become an instructor and be able to bring people up for educational flights hopefully in the next year or so," William said.
About the Contributor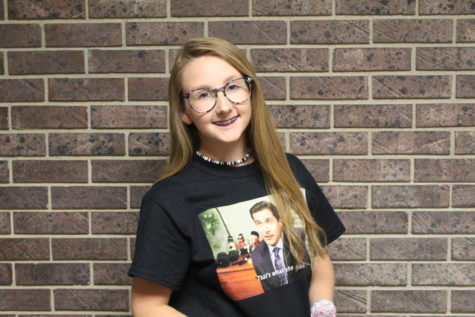 Maddie Smart, Co-Editor
Senior Maddie Smart is a third year reporter for the Oriole, and this is her first year as a Co-Editor. Outside of the newspaper room, Smart is involved...