School changes create mixed student emotions
"When you're in leadership, you make decisions based on what is best for people, not so much what is popular," Principal Rick Rivera said. "I'd rather stand against the grain and make the right decision than make one that people want."
Students have formed opinions on changes Rivera has made since taking the principal position.
"I like that he's trying to connect with us," junior Juliene Fuson said. "It has to be a difficult position with corona changes and being a new principal. Obviously, you can't please everyone."
Before coming to the high school, Rivera spent two years as the Augusta Middle School principal. 
"I love our district, love our community," Rivera said. "All my classroom experience primarily would have been in a high school. It was an opportunity to return to the high school and not have to uproot family."
Since school resumed in August, students have noticed changes such as music a minute before the bell, a high bell pitch, CAPPS classes every week and a completely new schedule. 
"I don't think he deserves any backlash; the thought he's put into the changes are appreciated," Fuson said. "The changes he's made aren't drastic; I think he just wanted to mix things up and have some fun."
When the bell music first began, students were originally irritated with another change on top of the corona related safety measures.
"He's ruining a lot of my favorite songs," senior Will Bullinger said. "I'm okay if you change the song every hour."
One-minute music was carried over from the middle school as a reminder to get to class.
"We are grown up enough to know when to go to our classes; I don't feel like there needs to be a song played," senior Isaiah Thornburg said. "I'm tired of hearing the same three songs. It was worse when it was 'Ain't no Mountain', that song is forever ruined."
Rivera said the music has proved to help reduce tarties. 
Another change Rivera instituted was adding five minutes to each class, 15 minutes overall, which was taken from ACE.
"I really don't like how they completely changed the bell schedule," sophomore Brenna Latimer said. "It's completely thrown off my perception of my schedule."
The extra time is supposed to be used to clean desks and supplies, but is something students and staff have had to adjust to. 
"All of it falls on a really awkward time, so no one really can remember the schedule," senior Graycen Elliot said. "It's so out of place. We're not actually getting anything done with the extra time."
In previous years, the student body president read the daily announcements. 
"Someone needed to read the announcements, so I did them," Rivera said. "I always did them at the middle school, and it just gets to be my piece of communication on a daily basis."
Latimer preferred the announcements last year. 
"I'd make it to where the announcements were the students doing it," Latimer said. "I paid more attention when the students did it."
Rivera's changes remind junior Shaelee Wolken of her middle school years.
"Middle school was some of the worst years of my life," Wolken said. "I like Rivera as a principal, but I just don't like being reminded of middle school, and I don't want him to change the high school."
"
"If any students have any questions or concerns I'd rather you talk to me than about me. There are two doors to my office and both of them are open.""
— Principal Rick Rivera
Last year, CAPPS took place once every three weeks. Now, it occurs every week.
"I understand CAPPS is required by the state, but I don't know if it's required every week," senior Gracyen Elliott said. "This time could be used for more school-related things."
CAPPS classes focus on building students' life skills and help them explore career and college options.
"Moving it to a weekly thing is because we value it, and if we value it, we're going to spend time on it," Rivera said. "Having it on a regular basis allows us to do more things with it."
Elliot started an online petition to raise awareness of the dislike toward changes Rivera made.
"I started the petition because I heard a lot of people talk about how they want these things to change," Elliot said. "No one was doing anything, and I knew if I went up to him by myself, it wasn't going to make a change."
Rivera wants to hear students' opinions, which is why he started the Principal's Advisory Council.
"We'll ask for some student input on things they'd like us to change," Rivera said. "We'll always take student input, but at the end of the day there's a reason why we're doing things a certain way."
COVID-19 and a new principal were really big changes, but Rivera also knew changes were needed.
"We didn't go drastic but some of those are things we wanted to modify, but we didn't want to wait for post COVID," Rivera said. "Any time there's a little change that takes us out of our routine there's a little hesitation, because it's not what we're used to."
The new bell system put in allows people in the building, like the secretaries, to create a bell schedule for the day.
"The system itself required an upgrade in our tower," Rivera said. "Like any of our computers, the technology changes and needs to be upgraded, so that was the upgrade. It wasn't because we wanted to have music."
Students have noticed the high pitched bell noise that came with the new system.
"The reason the bells are the pitch that it is is because the computer tech guy said that was the universal bell sound," Rivera said. "We have several other pitches we could pick."
Rivera had one request.
"If any students have any questions or concerns I'd rather you talk to me than about me," Rivera said. "There are two doors to my office and both of them are open."
About the Writer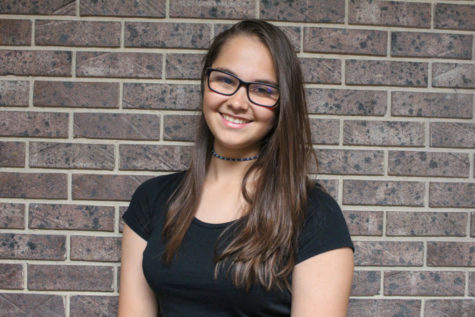 Savannah Athy-Sedbrook, Editor-in-Chief
Senior Savannah Athy-Sedbrook is a fourth-year reporter for The Oriole. She can often be found running around during ace to complete stories, as well as...