Augusta's recycling changes in 2020
Augusta's five-year recycling contract with Waste Connections will come to an end as of January 2020; because of that, recycling as it is now will disappear and be replaced with an undecided alternative.
"It's not completely clear cut yet because we're trying to see if any aspect of the program can continue," City Manager Josh Shaw said. "The city of Augusta does not operate a processing center, we just collect the materials."
Unlike what some citizens currently believe, the city does not have full control over the recycling problem. What happens with recycling depends on the market.
"The challenge with recyclables is that they are a commodity and there has to be a market for somebody to take those materials and recycle them," Shaw said. "The market for those materials has collapsed. There aren't a lot of other options for those materials to go somewhere."
China used to take recycled materials to be processed but stopped taking in almost all imports in 2018. However, many different opinions are floating throughout the community, many of which express regret at the loss of the program.
"I wasn't really surprised because I know it's very expensive to run those programs, but I was disappointed that we couldn't make it work," Biology teacher, Nathan Stevens said. "If they modify the program to where rather than having a recycling bin, they have you take it to Dillon's like we used to do. I think there will be a lot fewer people participate, so the trash will start to build up again."
City staff is hard at work finding the best solution.
"We're trying to find vendors. We've talked to other communities to see if they'll take our materials, but they are getting out of recycling as well," Shaw said. "We have spoken with our existing vendor, and they will continue to collect it, but at three to five times the amount. Good portions of it are considered contaminated and are getting thrown away in the landfill anyway."
When a batch of recycling is contaminated, it means that materials that are not recyclable have been thrown in it, and it ruins the entire collection.
"As long as you're [living] in a place where a lot of the material is contaminated and isn't recyclable anyway, you're just paying a lot of extra money to throw it away," Shaw said. 
Students also have strong feelings about recycling change.
"If we take away recycling then were just going to be making so much trash, and it will be horrible for Augusta and the environment in general," freshman Breanna Latimer said. "Even if people aren't really participating in recycling, there are people that are, and I just don't think we should take it away altogether."
Others were blindsided due to the recent happenings with recycling. 
"Things like that are really sheltered," sophomore Madeline Natvig said. "I was surprised. I see where they're coming from, but we should still make an effort to make our environment better, we don't want to completely trash it."
This is not a decision purely based on council decisions. People of Augusta are encouraged to speak up with their opinions.
"If you're passionate about this specific recycle program, keep tabs on the council agenda," Building Inspector Travis Combes said. "If trash recycling is on there then [you] would be allowed to speak at that meeting and give [your] input."
For now, all options are being taken into account, so there is no determined change to the recycling program yet.
"We don't want to put more in the landfill than we need to, but ultimately if there's not another option, then it would be a higher cost somewhere," Combes said. "Best case scenario, we could find a simpler option, keep our costs the same and keep them low."
Along with the U.S., other countries including China are discontinuing their recycling programs or are recycling less. 
"It's kind of a collapse of a whole bigger system that we're just a small part of," Shaw said.
Because the [recycling] system itself is slowly coming to an end, the environment is feeling the effects of pollution harder than it has in the past.
"The vast majority—79 percent [of plastic] —is accumulating in landfills or sloughing off in the natural environment as litter." reporter Laura Parker of National Geographic wrote in "A Whopping 91% of plastic isn't recycled". "Meaning: at some point, much of it ends up in the oceans, the final sink."
According to Parker, as of 2018, 91 percent of plastic is not recycled as of December 20, 2018.
 "Everyone needs to be more into recycling and using less plastic," Latimer said. "Even just buying your own bags at a store and using those reusable ones or skipping a straw at a restaurant are small things that could be a lot better."
More recyclables are ending up in ecosystems rather than recycling.
"There will always be an alternative even if you have to pack up a truck every couple weeks and take your recycling to Andover," Stevens said. "If it's that important to [you] it doesn't matter if the city does it or it's an individual thing, [you] will find a way."
About the Contributor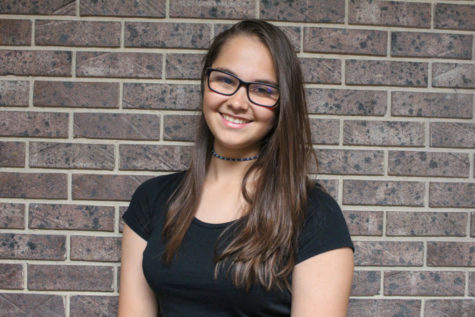 Savannah Athy-Sedbrook, Editor-in-Chief
Senior Savannah Athy-Sedbrook is a fourth-year reporter for The Oriole. She can often be found running around during ace to complete stories, as well as...