Dollar Tree opens in Augusta
A new Dollar Tree opened Oct. 4 located on 303 W, 7th Ave, and it has been quite popular.
Dollar Tree is a store that has everyday necessities, foods, toys, clothing accessories and more for $1. 
Dec. 8, 2018, a Dollar General was built next to Hilgers Family Pharmacy. 
Freshman Riley Athy-Sedbrook thinks the Dollar Tree was not necessary since Dollar General was built recently, but is still excited it is a new store in town.
"I don't think we needed it, but I'm still excited that we have it," Athy-Sedbrook said.
On the other hand, students would have enjoyed another restaurant.
"We already had a Dollar store and I would've preferred a food place like KFC," junior Tayten McFeaters said.
Dollar General has various pricing depending on what is bought, whereas Dollar Tree is a good source of items for something quick and cheap.
"If people need to get something on their way home and they don't have much money, they can go to the Dollar Tree and buy things actually $1 there compared to Dollar General," sophomore Kaylee Dugger said.
Students can take advantage of having access to cheap products in town. 
"It's really good because if you have a project you forgot about and need supplies, instead of having to drive all the way to Wichita … you have one right in town and you can have your mom drive you there and be back in five to 10 minutes," Athy-Sedbrook said.
Items that could be bought at Walmart could be bought at Dollar Tree for a cheaper price.
"It's also just an easier way to get supplies that you'd normally have to maybe go to Walmart for and pay higher prices," Athy-Sedbrook said.
With the holidays coming up, Dugger saw the opportunity to buy cheaper Halloween decorations instead of paying a bigger price at a Halloween store or Walmart.
"I like to buy Halloween decorations there because it's cheaper for me to get them there," said Dugger.
About the Contributor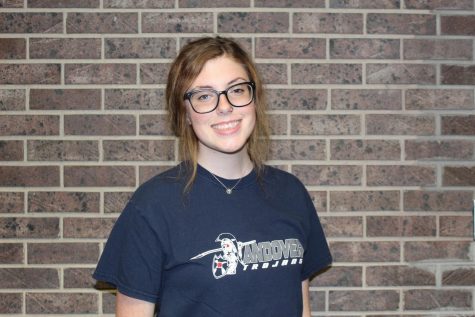 Emma Stueven, Reporter
Junior Emma Stueven is a second year reporter on The Oriole. Stueven is determined and wants to make the most out of her high school years. Outside of...